Judges, Golden Tickets, and American Idol Hopefuls came together last night in San Francisco and Philadelphia in the second to last audition episode of Season 15 and the series.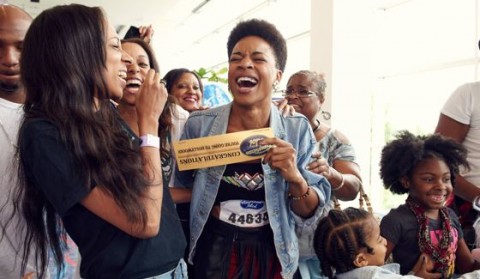 We've seen a lot of great talent come from these cities so far so the bar has been set high and as we've seen so far, the judges aren't ready to give away these Hollywood trips to just anyone. So far we've seen a sneak peek at the auditions from Adam Lasher, MacKenzie Bourg, and others that have us very interested in the few remaining performances. Though with just one hour to go tonight there won't be much time to fill.
Stick with us here and keep refreshing for our live recap of tonight's American Idol episode as we discover which Hopefuls are among the last to snag a Golden Ticket ahead of next week's Hollywood Week episodes.
Up first this week is Miranda "Poh" Scott, the sister of last season's Top 24 contestant Shi. And if you followed us last season, then you might remember I didn't like Shi and her gimmicky sound. And I'm here to say I feel the same thing about Poh. If I hear one more girl with that sound, I'm going to combust. But the judges loved her because they love that sound, even though she admitted she's not a singer and proved that she's not that great a one. But she got a golden ticket anyway.
Amelia Eisenhauer took the stage next and surprised everyone. Her mini-backstory was ridiculous with the sword and all and her personality is a bit crazy, so it was surprising when she starting singing and it was actually pretty good. She wasn't perfect, but she was definitely worth seeing and hearing more. The judges agreed and Amelia Eisenhauer is off to Hollywood.
Up next before the judges is Joy Dove. And she delivered a lot of personality and soul. Her vocals weren't great, but they're loud and sold and with just a little work and support, she could be a great asset to the show. The judges decide to send her onto the next round.
Oh look, it's the exact kind of guy that American Idol fangirls would vote for. MacKenzie Bourg broke out with a medley of songs from all of the judges and I have to say, that was pretty impressive. Watch out, judges, if you let him through, he'll foil your plans to find the next Kelly Clarkson. But they took the risk anyway and gave Mackenzie Bourg his golden ticket to Hollywood.
We've got a duo audition next. Self-proclaimed "nerds" and brother Andrew and …. wait, never mind. I thought this was going to be a serious audition, but I was wrong. It's a joke and they're really terrible. Moving on…
Jenna Renae was next up to bring the goods and she might be exactly what the judges were looking for. She's got a strong voice and seems to be a true musician behind the piano. Is she Kelly Clarkson? No, no one else ever will be. Is she close? Well, no. But is Jenna Renae good? Yes. The judges agree and give her three easy yeses onto Hollywood.
Up next is Mario Bonds, a blind singer filled with soul. Now this wouldn't be the first blind guy to make it onto the show, but will the judges even like him enough to get the chance? Not exactly. He's sent out with no golden ticket.
It's time to see someone up for a shot at redemption. It's Adam Lasher and he's cleaned himself up and reinvented himself into something that could maybe be marketed. And his vocals and stylings have seemingly changed and approved also. He had a much better audition and feel about him this time around. And Adam Lasher got his golden ticket back to Hollywood.
Emily Brooke has also returned for her shot at redemption. Last season she made it to Hollywood and seemed like she was going to make it on the show, but alas, she did not. But she spent the past year polishing her talents and it shows. Emily Brooke had a great audition and got her second golden ticket. Something tells me we'll see this country girl longer this time around. I mean she did improve enough to get the final audition of the night.
Who were your favorites from the night?
Find us on Facebook, Twitter, and by Email Updates for even more American Idol results, recaps, and more all season as we prepare to say goodbye.