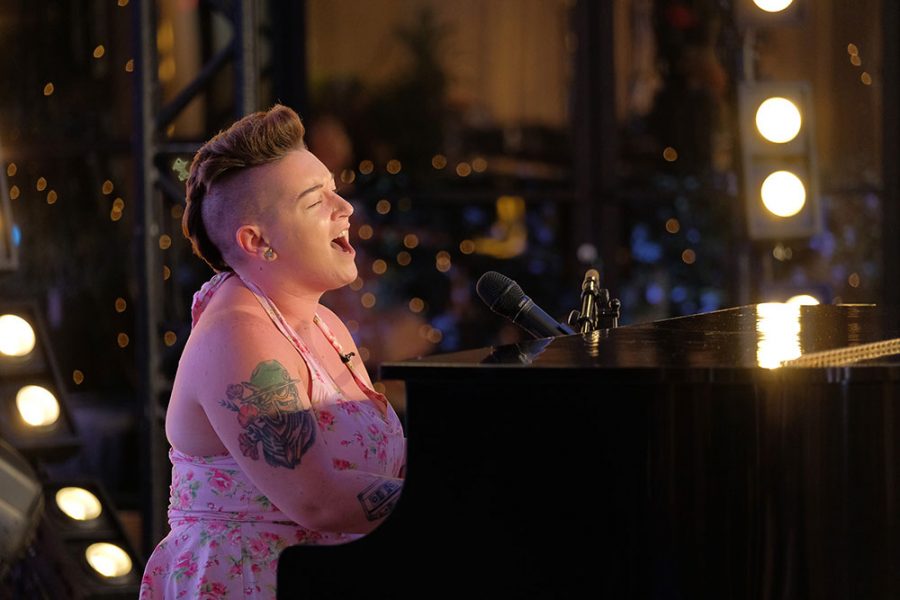 American Idol 2018 was back with more auditions Sunday night, and we were treated to more extreme talent and emotional stories. I think it's safe to say that even thought he show has been gone for two years, it hasn't lost its heart.
And actually, with no goofy-bad auditions, the show feels like it's taking itself more seriously this time around, and that's a good thing. Let's get to the auditions.
Crystal Alicea, 20, Winter Haven, Florida. We've got a karaoke singer, which makes me think of all the way back to seasons 1 and 2 when people auditioning for Idol hadn't already had three contracts and been on The Voice. And it was good. She might not be the best vocalist, but for someone who has only done karaoke, her version of "Lay Me Down" by Sam Smith was incredible. I'd give that an A- easily and the judges give her the first golden ticket to Hollywood of the night.
Kristyn Harris, 23, McKinney, Texas. She was pretty nervous, but her version of "I Wanna Be a Cowboy Sweetheart" was pretty entertaining. Especially the yodeling. We don't get that too often on American Idol, so it was refreshing. I'd give her a B+ for the audition. She got a yes from Luke, a no from Katy and a yes from Lionel. So that's enough for Hollywood.
Jonny Brenns, 18, St. Augustine, FL. Jonny pulled out an original song called "Blue Jeans" and he got a wow from Luke in the first three notes. The song was a little sleepy for an audition, but it was definitely a song and a performance you could hear on the radio tomorrow. I'd like to hear him sing something with more power and the judges agree. They make him sing something else. I'd give him a B- for the audition and an A for the original song. He gets his ticket to Hollywood after a no from Lionel but yeses from Luke and Katy.
Ricky Manning, 22, West Hollywood. Another original song and another mediocre audition. Some of these people are good songwriters, but not great performers. And that's fine for people in clubs and whatever, but not usually for American Idol. I give that audition a C but the judges liked it much more than I did. He gets three yeses and his ticket to Hollywood, which is just down the road from where he lives.
Effie Passero, 26, Modesto, CA. Finally we get a songwriter who can also perform. I don't know what the song was called, but it was an incredible song and so was her audition. She's a natural musical. That was definitely an A+ audition and thankfully an instant ticket to Hollywood.
Tyler Gordon, 25, Athens, IL. Well this guy had a lot of confidence for such an awful, F- audition. No surprise he doesn't get his pass to Hollywood.
Johnny White, 18, Hickory, NC. I think I was supposed to like this audition based on the backstory and the way they worked up to it, but I've seen at least 10 better versions of "It's a Man's Man's Man's World." Luckily Lionel seemed to think it was a bit too much too and asked him to sing another song. I thought it was just me. I'd give the whole thing a C but the judges decided to give him a shot. He's heading off to Hollywood.
Caleb Hutchinson, 18, Dallas, GA. He isn't my kind of a musician, but he is very talented. He has a very mature voice for 18 and his guitar skills are also solid. If I put aside my distaste for the style, I'd give the audition an A. And the judges liked it, so he's off to Hollywood Week.
Shannon O'Hara, 17, Mooresville, NC. She was actually a bit surprising. Her voice was stronger and more mature than I thought it would be. Adele is tough to take on, but she held her own. I liked it. I'd give it a solid A. The judges liked her and sent her off to Hollywood.
Amelia Hammer Harris, 26, Lexington, KY. She had quite the story. I hope they fact-checked her because those sounded like some tall-tales. I'm sure they're true, but I admit it gave me pause. I loved the her audition song choice. I mean who goes on American Idol and pulls out "Gimme Shelter" by the Rolling Stones? So great. Her voice is soulful and confident and has a unique style. I'd give the audition a B+ and the judges give her the ticket to Hollywood.
Ryan Zamo, 28, Pasadena, CA. No.
Milo and Julian Sposato, 17, Malibu, CA. These twins seem like natural musicians. The audition was a bit sloppy, though, and I do think that Julian is the better vocalist. This would hard to judge because I'd say Julian is an A performer and Milo is a B, but I think they'd both deserve a spot in Hollywood. And the judges agree. They get their golden tickets.
Les Greene, 27, Baltimore, MD. Les needed to pull it back a bit, but his version of "A Change Gonna Come" was full of soul and emotion. I think he could do some great things, though, so I'd give it an A- and the judges send him off to Hollywood with three yeses.
Maddie Zahm, 19, Boise, ID. Maddie is an incredible singer with such a beautiful energy. She has a unique sound, and a perfect pitch. She is definitely one of the best auditions to date. I give her an easy A+ and the judges gave her an easy pass to Hollywood. She's so so good.
What did you think of the night's auditions? Who were your favorites? Also, if you're curious to know if any of your favorites from tonight or any other night make it onto the Top 24 and beyond, be sure to check out our American Idol 2018 Top 24 and Top 14 Spoilers.