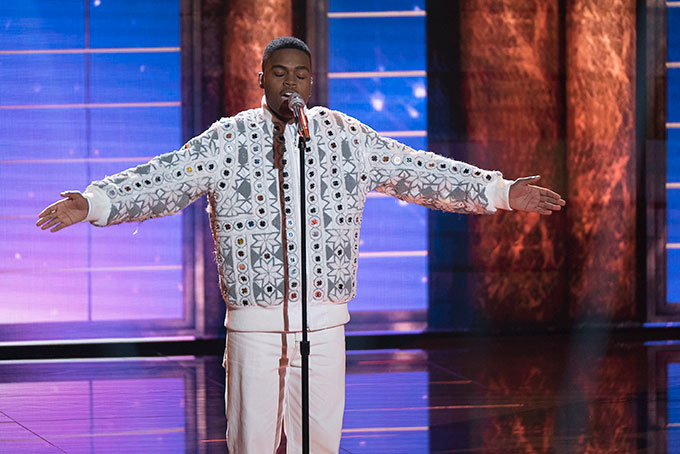 The American Idol 2018 Top 10 took to the stage to perform Disney songs, and it was by far my favorite episode of the season.
I thought it would be lame and boring with Disney night, but I thought people who normally are just kind of OK really brought it, and my favorites continued to amaze.
As always, I'll be reviewing each of the performances and assigning the letter grades I think each one deserved. These are just my opinions, so be sure to let us know yours as well. Let's get to it.
American Idol Top 10 Performances: Disney Night
Maddie Poppe, "The Bare Necessities." Well this was a lot of fun. I love that she gained the confidence to play with her range. She's just so much fun and come on, she played the yuke! I loved this so much. Grade: A+
Jurnee, "How Far I'll Go." I didn't really know this song, as it's a newer Disney song, but it was prefect for Jurnee's voice. Her effortless singing still amazes me. It's like all she has to do is stand there and these sounds just come out of her. This was a lot of fun. Grade: A
Cade Boehner, "Kiss The Girl." I was happy for Cade to finally slow things down. I wasn't sure about this one for him, but it really worked. It was tender and slow, but it was still totally him. Every hair rocker slows it down from time to time. There's a whole bunch of 1980s and 1990s prom themes that never would've happened if not. I loved this. Grade: A+
Ada Vox, "Circle of Life." First of all, this was the best Ada has looked. Stunning even. The performance was pretty grand, too. I loved that it started out a little softer and tender and then she broke into diva mode. It was a bit screechy here and there, but it was still a powerful performance. Grade: A-
Michelle Sussett, "Remember Me." I haven't been much of a Michelle fan, but this was one of her better performances. I like how she was able to kind of tell a story with the song. And of course, I liked when she started singing in Spanish. It wasn't expected, but it was perfect for a "Coco" song. Grade: A
Gabby Barrett, "Colors of the Wind." The first few notes were kind of bad and she's not at all an effortless singer. She really has to work at it and you could really tell with this performance. I thought the whole thing was kind of screechy and boring. And the band, which has nothing to do with her, was way too loud. I could hardly hear her most of the time. Grade: B
Michael J. Woodard, "Beauty and the Beast." This is how you slow it down and still have a friend. What Gabby couldn't do, Michael did. It was tender and emotional and that note in the middle? Come on! That was perfection. This was definitely his American Idol moment. Every good contestant has that moment on this show and this was his. Grade: A+
Caleb Lee Hutchinson, "You've Got a Friend In Me." This was a perfect song choice for Caleb. It was even the song I picked for him in my song suggestions post. Idina Menzel is right about his tone. It's so effortless and natural. I loved how this felt like some kind of Disney meets the Grand Ole Opry. Grade: A
Catie Turner, "Once Upon a Dream." This is more the kind of styling and speed for Catie. I normally really dislike her performances, but this was kind of perfect for her. I heard her actually sing for the first time, I think. There were no gimmicks and she just put it all in the vocals. Grade: A
Dennis Lorenzo, "Can You Feel The Love Tonight." This was kind of a boring song choice and arrangement, but Dennis is a great singer. I don't think this is going to do him any favors with the vote after his placement last week and where his performance was placed this week. Grade: B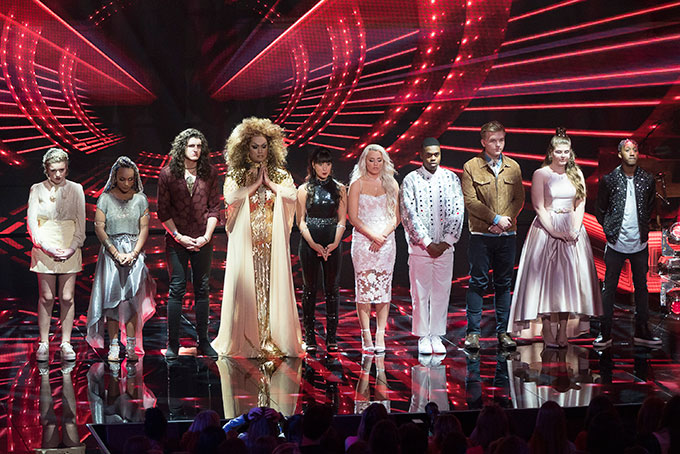 The Results
The results came in and Ryan Seacrest revealed the American Idol 2018 Top 7: Caleb Lee Hutchinson, Gabby Barrett, Michael J. Woodard, Cade Foehner, Maddie Poppe, Catie Turner and Juree.
Leaving the competition were Ada Vox, Dennis Lorezo and Michelle Sussett.
What did you think of the American Idol 2018 Top 10 performances and the results this week?
American Idol Network Performance of the night: Michael J. Woodard, "Beauty and the Beast"