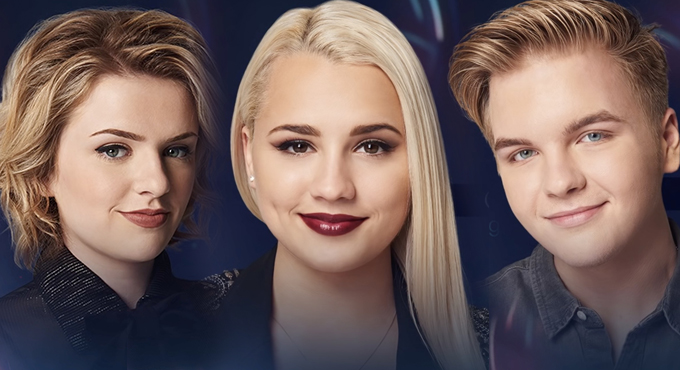 The American Idol 2018 Top 3 will all be performing their potential winning single on Sunday night and now we have all three of those for you now, thanks to the Hollywood Records YouTube. And the writers credited to these songs are pretty successful.
Maddie Poppe's single is called "Going, Going Gone" and it's very radio-ready. It's a song you could hear on the radio today. It's upbeat and bubbly and Maddie puts her Maddie spin into it as I don't really think this is the exact kind of music Maddie would be writing herself. But it's definitely a marketable song, I think. Especially considering one of the writers was Mitch Allan, who has written songs for Kelly Clarkson ("Heartbeat Song") and Demi Lovato ("Heart Attack"). Check it out for yourself below.
Gabby's single is called "Rivers Deep" and it's not a great song lyrically, but it has a good sound. It has this gospel slant to it, but I'm not sure it's the best choice for her. Shouldn't they be trying to push a country single out of her since that has been her push all season? It's also posted below so you can get your own thoughts on it.
Caleb's is called "Johnny Cash Heart" and it's a pretty solid song. I think the Johnny Cash angle in the song is smart, but if you really listen to the lyrics, it doesn't make a whole lot of sense. I will say, even though I'm not a country fan, this is probably the most marketable song. It is also written by one of the members of Rascal Flatts. So they mean business with this song. This could push Caleb to a win. Check it out below and decide what you think.
Check out the other American Idol Top 3 song choices if you're interested in spoilers. And be sure to be back here on Sunday and Monday nights as we recap the American Idol 2018 finale and deliver your results as soon as we know who won American Idol. Meanwhile, check out the Top 3 singles below. You can also download your favorite's songs on iTunes!
Maddie Poppe, Going Going Gone
Gabby Barrett, Rivers Deep
Caleb Lee Hutchinson, Johnny Cash Heart