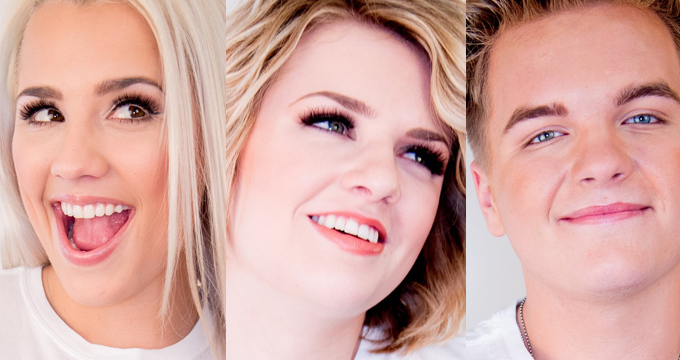 Tonight on American Idol 2018 we kick-off the two-night finale as Gabby Barrett, Caleb Lee Hutchinson and Maddie Poppe sing for your votes one last time.
The American Idol Top 3 will be performing three songs each: their hometown song, a reprise and their potential winning single. We'll also get to see each other their hometown visits to Dallas, Georgia (Caleb); Pittsburgh, Pennsylvania (Gabby); and Clarksville, Iowa (Maddie).
In addition to performances by Gabby, Caleb, and Maddie, four other past contestants – Jonny Brenns, Catie Turner, Michelle Sussett and Harper Grace – will also come back to the American Idol stage to perform an original song medley.
American Idol 2018 Final 3 Songs
Gabby Barrett
Hometown: "Don't Stop Believin'" by Journey
Reprise: "Little Red Wagon" by Miranda Lambert
Winner's Single: "Rivers Deep" (Original)
Caleb Lee Hutchinson
Hometown: "Folsom Prison Blues" by Johnny Cash
Reprise: "Don't Close Your Eyes" by Keith Whitley
Winner's Single: "Johnny Cash Heart" (Original)
Maddie Poppe
Hometown: "Landslide" by Fleetwood Mac
Reprise: "Don't Ever Let Your Children Grow Up" (Original)
Winner's Single: "Going Going Gone" (Original)
The original song medley will include:
Jonny Brenns – "Blue Jeans" (Original)
Catie Turner – "21st Century Machine" (Original)
Harper Grace – "Yard Sale" (Original)
Michelle Sussett – "I'm a Dreamer" (Original)
Voting
America will vote overnight on Sunday, May 20, to determine who will be crowned the next "American Idol" during the grand finale on Monday, May 21. Voting for the finale will open for the Top 3 contestants when the show goes live on Sunday, May 20, at 8:00 p.m. EDT and will remain open overnight, closing at 9:00 a.m. EDT on Monday, May 21. You can vote online at AmericanIdol.com/vote, in the American Idol app or via text. You can vote 10 times per contestant, per method. — ABC
Be sure to join us back here tonight for our recap of the American Idol 2018 penultimate episode and back again on Monday night for your American Idol finale
results
!