American Idol runner-up Jena Irene has just picked up her brand new Ford Mustang and we're all reminded it's a pretty sweet deal to come in the Top 2 on Idol!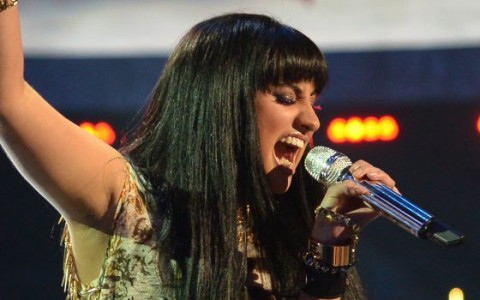 Both Jena Irene and winner Caleb Johnson won themselves a new Mustang as part of arriving at the season finale but it wasn't until just now that she made her way to locking down that prize.
Along with heading to the Ford dealership in Michigan to wrangle her pony Jena Irene took a moment to do a quick interview which we've got below. Check out the photos of Jena and her slick car plus what she had to say about walking away, err, driving away with a new Mustang.
click images to see full-size view
Q: What was the first thing that came to mind when AI announced that you will be driving home in your very own 2015 Mustang?
Jena Irene: I couldn't believe it. I was star struck by the fact that the nice cars were just sitting in front of us and then we were taking them home. That was an awesome feeling, especially just being in the finale and knowing you just won a car!
Q: Where will you drive to first?
Jena Irene: I'm actually going to be driving to Detroit to meet with a label. Straight out of the dealership! It's going to be a fun, first trip!
Q: Do you have a name for your Mustang?
Jena Irene: I don't have a name for the Mustang yet, but I do know that it's a girl. I'm going to have to update you guys!
Q: What song will you be listening to when you hit the road with your 'stang?
Jena Irene: Probably one of my own songs. And the song is called Storm Cloud… I just got the master tracks yesterday so I'm excited to listen to my own stuff.
Congrats to Jena Irene on her new ride and even better that she's heading out to meet with a label. Wish her luck!