The American Idol 2015 spoilers on the season 14 Top 40 have been revealed! Our friends at notoriously reliable American Idol spoilers source The Idol Pad have given us the list of contestants who reportedly survived Hollywood Week to make the American Idol 2015 Top 40. We are seeing some truly killer talent on this list, which makes us very excited for the new season in January!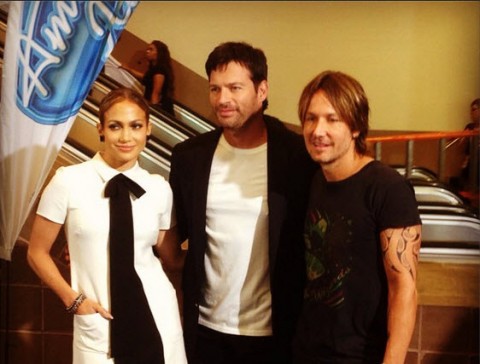 We are still compiling our list of which hopefuls received a Golden Ticket to American Idol Hollywood Week 2015, but meanwhile, we can reveal the big spoilers on who survived to make it through to the next round. There are a handful of familiar faces you'll probably remember from previous seasons, as well as a slew of fabulous new talent.
The American Idol judges seem hardcore on really bringing up the talent level this season after complaints from fans last year that it was lacking. From what we've seen so far on YouTube and other social media sources from the reported Top 40 contestants, it looks like they were listening. We're far more excited about this crop of singers already than last year's Top 40!
So who made it through the grueling trials of American Idol 2015 Hollywood Week to earn a spot in the next round? Check out the list below and start picking out your favorites!
Update: Wow! American Idol has expanded its semi-finalists up from the Top 40 to the Top 48 with 26 of those being females versus 22 guys in the mix. That's a strong advantage to the ladies heading in to the big cuts ahead!
Top 26 Ladies
1. Adanna Duru
2. Alexis Gomez
3. Anjelika Joseph (aka Jelly) – Facebook, Fan Page, Twitter, YouTube
4. Ellen Petersen – Facebook, Twitter, YouTube
5. Emily Brooke – Website, Facebook, Fan Page, Twitter, YouTube
6. Erica Washington – Facebook, Fan Page, Twitter, YouTube
7. Erika Davis
8. Hannah Mrozak – Website, Facebook, Fan Page, Twitter, YouTube, iTunes
9. Hunter Larsen – Facebook, Fan Page, Twitter, YouTube
10. Jackie Cole (aka Jax Cole) – Facebook, Fan Page, Twitter, YouTube
11. Jaq Mackenzie – Facebook, Twitter, YouTube
12. Joey Cook – Website, Facebook, Fan Page, Twitter, YouTube
13. Kalynne Schoelen (aka Kalynne Michelle) – Facebook, Fan Page, Twitter, YouTube
14. Katherine Winston – Website, Facebook, Fan Page, Twitter, YouTube
15. Loren Lott (aka Loren Sharice) – Facebook, Fan Page, Twitter, YouTube
16. Lovey James – Website, Facebook, Fan Page, Twitter, YouTube
17. Maddie Walker (aka Madisen Walker) [AI13 HW] – Facebook, Fan Page, Twitter, YouTube
18. Maddy Hudson – Facebook, Fan Page, Twitter, YouTube
19. Monica Laire Pidoy Mendoza
20. Najah Lewis – Facebook, Fan Page, Twitter, YouTube
21. Nalani Quintello [AI13 GM] – Facebook, Fan Page, Twitter, YouTube
22. Rachael Hallack – Website, Facebook, Fan Page, Twitter, YouTube, iTunes
23. Sarina-Joi Crowe [AI10 HW, AI12 HW, & AI13 GM] – Facebook, Fan Page, Twitter, YouTube
24. Shannon Berthiaume
25. Shaina 'Shi' Scott – Facebook, Twitter, Youtube
26. Tyanna Jones – Facebook, Fan Page, Twitter, YouTube
Top 22 Guys
1. Adam Ezegelian – Facebook, Fan Page, Twitter, YouTube
2. Hollywood Anderson (aka Anderson Footman) – Facebook, Fan Page, Twitter, YouTube
3. Casey Thrasher [AI13 Top 30]  – Facebook, Fan Page, Twitter, YouTube
4. Clark Beckham – Website, Facebook, Fan Page, Twitter, YouTube, iTunes
5. Cody Fry – Website, Facebook, Fan Page, Twitter, YouTube, iTunes
6. Daniel Seavey  – Facebook, Fan Page, Twitter, YouTube
7. Hector Montenegro – Website, Facebook, Fan Page, Twitter, YouTube
8. Jessie Nunn III – Facebook, Fan Page, Twitter, YouTube
9. Josh Sanders [AI11, AI12 HW]- Facebook, Fan Page, Twitter, YouTube
10. Mark Andrew Pudas – [The Voice 2012] Website, Facebook, Fan Page, Twitter, YouTube
11. Michael Simeon Smith [AI13 HW] – Website, Facebook, Fan Page, Twitter, YouTube, iTunes
12. Nick Fradiani Jr. [AGT 2014] – Facebook, Fan Page, Twitter, YouTube
13. Qaasim Middleton – Facebook, Twitter, iTunes, YouTube
14. Quentin Alexander
15. Rayvon Owen – Website, Facebook, Fan Page, Twitter, YouTube
16. Reno Anoa'i – Facebook, Fan Page, Twitter, YouTube
17. Ricky Hendricks – Facebook, Fan Page, Twitter, YouTube
18. Riley Bria – Facebook, Fan Page, Twitter, YouTube
19. Savion Wright [AI13 GM] – Website, Facebook, Fan Page, Twitter, YouTube, iTunes
20. Tion Phipps
21. Trevor Douglas Haueisen – Facebook, Fan Page, Twitter, YouTube
22. Zack Kaltenbach – Facebook, Fan Page, Twitter, YouTube, iTunes