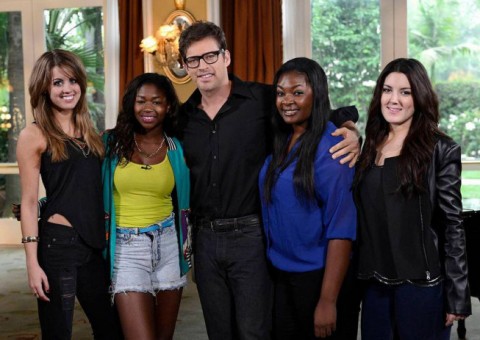 Last week on American Idol 2013, we said goodbye to no one, but tonight someone will be packing their bags ahead of the Top 3 hometown visits.
And it's seriously anyone's game at this point. The judges and contestants themselves have messed with all of our minds so it's hard to tell who will be going home tonight. The only thing certain is that Ryan Seacrest will deliver the same corny line he delivers every year where he tells a contestant to pack their bags because they're going home … for the hometown visit, meaning they're really in the Top 3.
OK, so time to get serious. This is really, really tough this week. For the first time in history, I don't feel comfortable choosing someone who is "100 percent safe." So I won't. I can't.
American Idol 2013 Top 4 Results Predictions
As always those are just my predictions. This week they're my very weak predictions. Just please don't think they're my personal opinions. They're just how I think America's votes could play out. Some of our readers wear me out trying to explain that. But anyway, I get easily distracted at this point every season. So back to it…
Our poll is indicating that Angie is close to the bottom. And while that's accurate oftentimes, I just can't believe that. But it's possible that she might be in danger. It's also showing us that Amber is way ahead. I also find that hard to believe. But maybe the judge pimping and the reverse psychology this week has actually worked. Hell, maybe Angie will go home and Amber will be in the Top 2. Maybe she'll even win next week. All I can do at this point is shrug.
Who do you think stays and who do you think goes tonight on American Idol 2013?