Revealed during this week's audition episodes are the latest American Idol results featuring which Hopefuls received a ticket on to Hollywood Week to face more challenges and harsher eliminations by the hands of the Judges and production.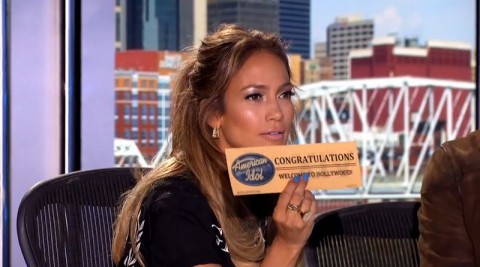 We have a growing spoilers list for American Idol 2015 showing who had made it through to Hollywood thanks to leaks and reveals during the audition process, but now we're getting official confirmation.
Here is the breakdown of who got a Golden Ticket on American Idol during Week 3 of the auditions phase on Season 14.
New Orleans Golden Ticket Winners:
Jelly Joseph – 26, Singer, New Orleans LA

Tiffany Stringer – 16, Student, Southlake TX

Greyson Turner – 15, Student, Spartanburg SC

Quentin Alexander – 20, Retail Associate, New Orleans LA

Mikey Duran – 19, Student, New Orleans LA

Nalani Quintello – 19, Student, Orange Park FL
Tori Martin – 20, Musician, Azle TX
Hope Windle – 24, Teller, Hot Springs AZ

Ricky Dale Hendricks – 17, Cook, West Monroe LA

Dakota Suarez – 18, Drag Queen, Falfurrias TX

Adam Lasher – 27, Songwriter / Performer, Danville CA

Erica Washington – 24, Student, Mobile AL

Minnesota Golden Ticket Winners:
Shannon Berthiaume – 17, Student, St. Paul MN – Facebook, Fan Page, Twitter, YouTube

Morgan Ovens – 24, Pro Organizer, Venice CA
Gabrielle Noe'l – 23, Leasing Mgr, Minneapolis MN
Courtney Guns – 23, Bartender, Bemidji MN

Vanessa Andrea Melvin-Montandon  – 25, Stay at home mom, Minot ND

Zach Johnson – 20, Student, Fargo ND

Aaron Bissell – 17, Student, Cedar Rapids IA

Cindy-Jo Schloer – 26, Teacher, North Branch MN

Jacob Tolliver – 20, Performer, Portsmouth OH

Hannah Mrozak – 16, Student, Richfield WI

Mark Andrew Pudas – 29, Landscaper, Minneapolis MN: The Voice 2012, Website, Facebook, Fan Page
Twitter, YouTube

Want more American Idol spoilers? Read our Top 24 list for all the latest details.