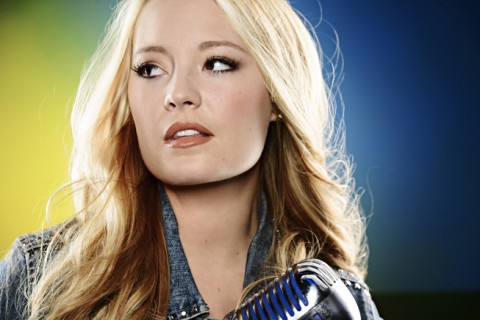 On Thursday night's episode of American Idol, Janelle Arthur became the first girl to be eliminated from the Top 5. During an interview just after leaving the stage for the last time, Janelle Arthur seemed anything but disappointed. The fact that she was in last place with the voters Thursday night did nothing to diminish the easy going charm and effervescence she has displayed throughout her time on Season 12. She said she was feeling great about her final performance and although the judges decided not to use the "save" on the talented Country singer, Janelle said, "If that's the last performance I do on that stage, I'm happy."
As far as her time on American Idol Season 12 and her presence in the Top 5, she said, "It was unreal just to be amongst these other girls and the fact that I was one of them was really incredible".
Janelle says she kind of knew that her time on Idol was going to come to an end on Thursday night. She said, "I told Candice before we walked out there, "Here's the deal, I'm going to be going home, and they're not going to save me, but I love you". In a conversation with Season 10 finalist, Casey Abrams, whom she met during the Season 10 auditions, he said that he also definitely felt that same "vibe" on the night he was eliminated 2 seasons ago. Janelle made a point of thanking the fans who voted for her along the way and said that "they were the ones who brought her this far".
She admits that Dolly Parton's, "Dumb Blonde" may not have been the smartest song choice she could have made but says "It was the only song I had a cool arrangement for in my head". It was enough to prompt Dolly Parton herself to send Janelle a note in which she said, "We know we're not dumb and we know we're not blonde. I am very proud of you."
Janelle chose to perform her own arrangement of "You Keep Me Hangin' On" as her "save" song. During "Motown Week" the judges loved her rendition which included her playing her guitar. But unfortunately, the repeat performance, sans guitar, wasn't enough for the judges to unanimously vote to use their one time option of a save. Janelle admitted that "she was a bit hurt that the judges didn't use their last save chance on me."
There has been some speculation as to when the judge's option to use the save actually expires. In past seasons they had to use it no later than the Top 5 week or they would lose the ability to use it at all. It seems the contestants are just as confused by the rules of the save as the rest of us. Janelle told reporters, "We thought the week of Lazaro's elimination was the last week to use it. Then they told us they had to use it before the end of the year, but they didn't really tell us when the cutoff was."
After Lazaro Arbos' was finally voted off during Top 6 week, he commented that there was "no way five guys could have left in a row." Janelle has more faith in the talent of the 4 remaining girls than in any theory that the show's results were somehow rigged to produce an all girl Top 5. Her reaction to Lazaro's remark was, "I think that maybe the American people thought a top five female group would be just awesome because it never happened before". She also said that "America can't go wrong" with the 4 remaining girls in the competition.
Janelle admits it was a difficult and sometimes awkward situation having two country singers, especially two girls, in the Top 5. She said both she and Kree Harrison were made to feel uncomfortable by the way the judge's sometimes compared the two. Janelle may have been referring specifically to the biting comment made by Nicki Minaj when the duo performed "Like a Prayer". The controversial judge commented that "Kreedom almost made it look like she flew in to do a duet with an Idol contestant".
In regard to her future, Janelle said, "this right here was my future, and I fulfilled a huge part of it, and it's just the beginning". Janelle is looking forward to moving on to a career in the Country Music industry saying, "My hope is to keep going and keep moving up; keep writing and making an album." As she was leaving Thursday night all four judges told her she has a great future in Country music and encouraged her to continue to pursue her goals.
Source: AmericanIdol.com, FOX.com