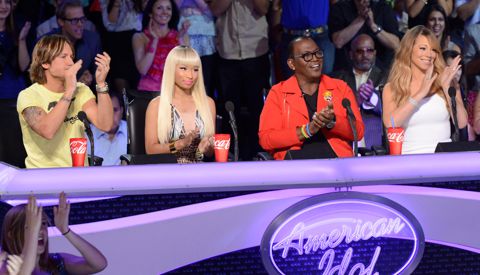 The Judges Save has made itself in to quite an interesting topic for American Idol 2013. In past seasons the Save has had a deadline of the Top 5, eliminating its use in the final weeks of the competition. That may have all changed for Season 12.
Last week when production reached its goal of an all female finalists pool the stars seemingly aligned as it was the last opportunity, according to tradition, for Randy Jackson to announce the Save would be used. Couple that with Nicki Minaj's pre-show announcement of "shocking" results and the stage seemed set for Thursday's eliminated singer to get a second chance. But when the time came the moment passed and Janelle was sent home.
So what happened? Why wasn't the Save used in its last opportunity this season as we adamantly predicted it would be? The schedule clearly has an extra week in it on this current trajectory. We'll be out of finalists before we even reach the May 15th finale show. Something has to take place to save the schedule and according to Janelle Arthur that's all been planned out.
During Janelle's exit interviews she made the revealing statement that there was no limit to when the Judges Save could be used this season:
"We thought the week of Lazaro (Arbos' elimination) was the last week to use it," says Janelle Arthur, who was ousted Thursday when the judges split 2-2 on whether or not to keep her. "Then they told us they had to use it before the end of the year, but they didn't really tell us when the cutoff was."
Well that's not surprising. The judges can use their Save anytime before the end of the season as long as they do it by the time we go from the Top 3 to the Top 2. Could they be saving it to create a more dramatic three-way season finale show? Pitting Kree, Candice, and Angie against one another for two straight weeks?
This season of American Idol 2013 has felt the heavy hand of production tighten its control which makes this move unsurprising but all the same questionable. Are the producers free to do as they please? Of course! But at what point are they going to let go and allow things to just happen? They secured a female winner after working so hard for it so isn't it time for them to just give in and let the viewers decide?
If you were a judge on the Season 12 panel, which remaining Top 4 finalist would you want to save with this special power?
Source: USA Today