We have the American Idol spoilers coming to you live tonight for who made the Top 2 on season 13. This is it, the final American Idol 2014 results show before the finale next week. Who was voted off American Idol tonight and won't be making it to the final round? Join us for the live vote announcement and find out if your favorite made it through!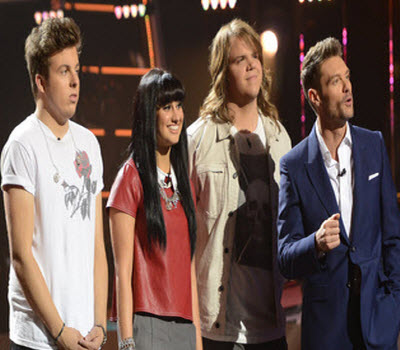 The American Idol judges have had their say. The viewers have all cast their votes. It comes down to just one more American Idol elimination results show before the finale next week. Either Caleb Johnson, Alex Preston, or Jena Irene Ascuitto will be the one who was eliminated on American Idol tonight in the terribly dreaded third place spot.
We've made our prediction about what will happen tonight, now it's time to find out the official American Idol season 13 results for the Top 2! We'll be bringing you all the action live as it happens tonight, so beware west coasters if you don't want the American Idol spoilers on what happened!
Our live results blog will kicks off at right now! Watch the final announcement and the performance of the eliminated finalist below:
American Idol Results Tonight:
Safe:
Jena Irene
Caleb Johnson
Who got voted off American Idol tonight from the Top 3:
Alex Preston