The Top 2 has been revealed for American Idol 2014 and that raises the question we wonder every time it gets down to this stage: who won the coin toss? FOX has revealed that answer along with a surprising outcome.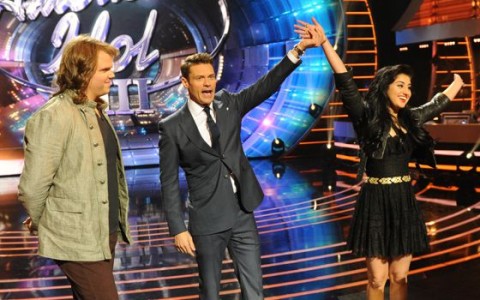 Following Thursday night's American Idol results show, Ryan Seacrest brought Caleb Johnson and Jena Irene out on to the stage to decide the season finale performance order.
Typically it's seen as advantageous to go second on finale night so as to be the last thought in viewers' minds as the phone lines open for voting. To keep things as balanced as possible Idol holds a coin toss to decide who gets that spot or, as it turned out this time, the decision to go first.
In a publicity photo FOX revealed in its caption, "Jena Irene wins the coin toss and elects to perform first on the AMERICAN IDOL XIII finale."
So Jena won the toss, but picked to go first. I'm a little surprised by her selection.
Typically the "last in mind, first in vote" situation could apply, but with only two performers in the show, there's much less of a risk of "forgetting" about who went earlier after a two-hour show as can happen earlier in the season. Also, with the changes to voting this season, going second might not be such a bad choice. Voting opens when the show does for online votes so Jena Irene fans can start supporting her from the opening and perhaps it'll prove to be a smart move.
Of course closing out the night gives Caleb a very big opportunity. Remember this just two years ago? Caleb is known to put on quite a stage show so this could be just as big for him.
It's an interesting decision by Jena Irene and perhaps one that won't really matter as the singers will stand on their performances and not their order of appearance.
What do you think? Should Jena have selected to go second and be the last performance of the night or was her choice to go first a better one?