A shocking American Idol twist on the Top 5 results show tonight left both the audience and the finalists stunned! When host Ryan Seacrest announced there would be an unprecedented event on American Idol season 13 tonight, we never would have expected what was about to happen.
When Ryan said at the top of the American Idol season 13 results show tonight that there would be a "shocking" twist this evening, we had a few immediate thoughts. We initially guessed that perhaps they weren't going to send anyone home and next week would be a double elimination. Turns out we were close… but not quite on that one.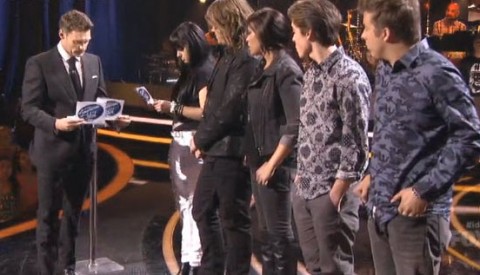 Instead, when it finally came time to announce the 'twist' for the night, Ryan said that it was time for the American Idol Top 5 finalists to have a hand in their own fate. The American Idol judges had their say, the American public had their votes, and now the singers themselves would get a chance to make a big decision. In an anonymous ballot, they could either choose to go ahead with the voting results as usual and the person with the lowest amount would go home. Or, they could decide everyone got to stay for another week… but next week would be a double elimination.
The kicker was that the vote had to be unanimous one way or the other. So even one vote against keeping everyone another week meant someone would go home. And surprise! Turns out that two people wanted someone to leave more than they wanted to give one of their 'friends' another week in the competition. We don't know who those two dissenting votes belonged to, but we really have to wonder if they were expecting what would happen next.
Update: We now know who voted "No" on the Top 5 Twist.
Because the person voted off tonight was not Jessica Meuse, as many predicted (including us). The singer who was voted off tonight was Sam Woolf. Even Jess looked shocked when his name was called out, although he didn't look as surprised as she did. He just looked a bit mad and resigned to his fate. Jessica had appeared almost screamingly certain she was going to be eliminated, and even nodded her head at the "no votes" that came in — like she expected people would vote that way thinking she was the one going home.
Wonder what the conversations are going to be like back at the hotel tonight after that whole crazy twist going down… We're thinking there might just be some folks feeling a bit guilty about those votes. Although, we are dying to know if Sam was one of the no votes that ended up sending him home this week!