Last night on American Idol 2014 the Top 5 contestants were hit by a shocking twist that put them in the driver's seat with the chance to undo millions of viewers votes. In perhaps a more shocking turn, the twist fell apart when two singers dissented and now we know who voted "No" on the Idol twist.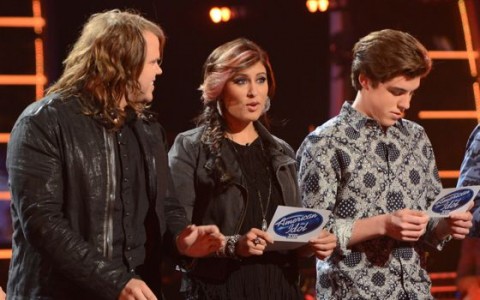 While host Ryan Seacrest said the results of the Top 5's votes on the twist would remain a secret the actual votes have now been revealed. Chris Trondsen of Pacific Rim Video was backstage holding interviews with the American Idol Top 5 when he learned which of the finalists had voted against keeping this week's eliminated singer.
American Idol fans: Caleb, Sam & Jess voted YES, keep everyone together (2 home next week). Jena & Alex voted NO, send someone home tonight.

— Chris Trondsen (@ChrisTrondsen) May 2, 2014
I'm actually a little surprised that it was Jena Irene and Alex Preston who voted against the twist. Like many of you I was trying to guess who it might be, but that was not a combination I had considered. Now as to why those two voted against keeping another singer, can we really blame them? It was a harsh move by production to put them on the spot like that and force them to decide the fate of another without even knowing if it was them going home.
Alex took to Twitter to defend his decision:
Everyone voted tonight, knowing that they themselves could go home. No one knew. It is Americas vote, has been for 13 years. It's shitty.

— Alex Preston (@RealAlexPreston) May 2, 2014
What do you think of the whole twist mess? Would you have voted along with Caleb Johnson, Jessica Meuse, and Sam Woolf to have kept this week's eliminated singer or would you side with Jena Irene and Alex? Vote in our poll below and share your thoughts!
click images to see full-size views