Can you believe after the American Idol results tonight we'll be down to the Top 3 of season 13? Who got voted off in our American Idol recap tonight and won't be making it to the last round before the finale? Join us for the live American Idol 2014 elimination results right now!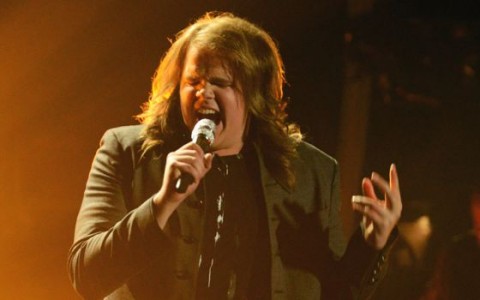 Making a prediction about who got voted off American Idol tonight wasn't an easy prospect. Our readers ranked Jessica Meuse in last place after the performances this week, but only by a very slim margin. Alex Preston also scored very low on our reader's poll as well. While we ultimately predicted that it would be Jessica who was eliminated on American Idol tonight, we would not be shocked if it was Alex instead.
On the other hand, this is traditionally a week that we often see a shocking American Idol elimination we were not execting. If you remember, strong favorites like Chris Daughtry, Tamyra Gray, Josh Gracin, James Durbin, and Michael Lynche were all eliminated in the Top 4. If we have learned anything from previous American Idol results shows in the past, it's that no one is truly safe at this stage of the competition.
We are not expecting a big shock tonight of front-runners Caleb Johnson or Jena Irene going home on American Idol tonight. However, it would not be an incredible surprise if one of them should end up in the bottom two in our American Idol recap this evening.
Despite how much the American Idol judges heaped praise on Jena Irene again last night, the perception on social media was that the fans did not really love her performances. In fact, even some staunch Jena supporters though JLo's wildly adoring behavior during and after one of Jena's performances (including going up on stage to kiss her) was uncalled for. She could get her first taste of the bottom two tonight just out of backlash over the perceived favoritism coming from JLo and the other judges.
Caleb Johnson, meanwhile, had a very bad week all around after making several regrettable remarks during a post-show interview last week. The outrage over his comments blew up on social media, with even some Caleb fans who have been voting for him from the beginning vowing to never support him again. Plus, Caleb had one of his weakest performances this week, and only really blew out one of his three songs last night. He could find himself looking up from the bottom tonight as well, although we would probably literally fall out of our chairs if he went home.
So who got kicked off American Idol tonight by the voters? Join us for our live American Idol results show recap right here below at 9PM ET and find out with us!
>> Join our Live Chat during the show! (pop-up window) <<
We kick off tonight with clips of previous American Idol Top 3 contestants going back to their hometowns as heroes with video of the current Top 4 talking about how much they want that to be them. Only three finalists will get to enjoy those coveted 'hometown visits' next week. Who will it be? Let's get to the results!
Host Ryan Seacrest introduces Top 4 finalists Caleb Johnson, Jena Irene Ascuitto, Alex Preston, and Jessica Meuse. And then we have American Idol judges Kieth Urban, Jennifer Lopez, and Harry Connick Jr. JLo is wearing a red dress with an asymmetrical hemline that nearly shows off all her goods, wow! Don't bend over JLo!
Next up we have the Top 4 contestants talking over dinner about their performances last night. These conversations sound so very staged sometimes. As one of our visitors in our Live Chat said, it's like they are reading cue cards or something.
Now it's time to find out who the first person headed to their hometown for a big parade! The first person who is safe will be… found out after the break. Dang it Ryan, you dimmed the lights and everything!
Okay, we're back but before we get to the actual results, we get a Ford commercial disguised as the Top 4 taking a trip to a guitar store, a record store, eating corndogs, etc.
And we come back to the studio with Ryan carrying a plate of New Orleans beignets and Harry grabs them and starts throwing them at the audience. There is a bunch of gab about the sugary donut things, and Harry flinging more of them around, and making JLo eat one even with her lipstick. We want results already!
We cut to Randy Jackson who says Jena Irene was on fire last night and she gave one of the best performances in American Idol history. We don't know about that… Randy says Caleb also had a great night last night as well. Obviously Jena and Caleb are getting the most praise.
And finally we get to the results! The first person who will be safe tonight and going to their hometown visit next week is… Jena!
Back from another break and we have the Top 4 sitting around over a picnic talking about their fans and going back home. Alex says one of his fans had a line from one of his original songs tattooed on his arm.
Finally we return to the studio and more results. It's time to find out the next person going to their hometown visit next week is… Caleb Johnson! Well, it looks like the front-runners are still the front-runners. Jena and Caleb in the finale looking pretty solid at this point.
And the final results are coming in now… will it be Alex or Jessica who goes home tonight? Host Ryan Seacrest has the final announcement and it looks like our prediction was correct… Alex is safe and Jessica is going home!
American Idol 2014: Top 4 Elimination Results
Safe:
Jena Irene
Caleb Johnson
Alex Preston
Who got voted off American Idol tonight: Jessica Meuse