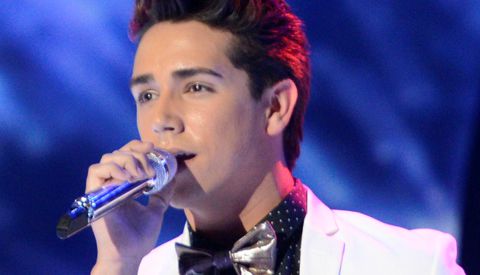 Did Lazaro Arbos give up tonight on American Idol 2013? The Top 6 finalist gave a depressingly weak performance in his first appearance with the cover of "Close To You" and barely squeaked out an ounce of praise from the judges with his second round delivery of "Angels." It seemed as though Lazaro was resigned to his fate and didn't even try this week on Idol.
After landing in the Top 3 last week it'd seem Lazaro was destined to break the boys' curse and survive to see at least one girl eliminated from Season 12. But after that pair of performances I don't see how anyone could honestly vote for him based on tonight's show.
Branden covered Lazaro's songs in his recap of tonight's American Idol and noted that while he did remember his lyrics this time around that might have been the only positive note.
Watch for yourself in both of his performance videos below and then share your thoughts on whether or not Lazaro was even trying during the Top 6 show.
Lazaro Arbos sings "Close To You"
Lazaro Arbos sings "Angels"