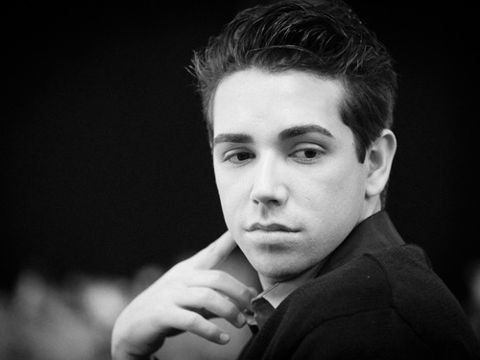 Lazaro Arbos, one of the most improbable contestants ever to appear as a Top 10 finalist on American Idol, was finally eliminated from the Season 12 competition two weeks ago. Lazaro's elimination came with a collective sigh of relief from the judges, who out of sheer desperation, totally trashed his off key performance of the Bacharach/David hit, "Close To You".
Why were they desperate? Somehow, every week, despite giving performances barely good enough for a high school talent show, he was being voted further and further along in the competition. He had managed to make it all the way into the Top 6 and it was very possible that whatever force was moving him forward could result in one of the remaining 5 girls, whose extraordinary talent put them way out of his league, being sent home before him. This would have been a complete travesty and unbearable for production and the judges and probably the millions of viewers who were at a loss as to why Lazaro ever made it to the Top 6 in the first place.
From his first audition, Lazaro had a firm grip on our hearts with his inspiring story. He had overcome such obstacles as being bullied and a socially debilitating stammer. And in spite of that he persevered in his dream of a career as a professional singer. His singing ability at the auditions amazed everyone, especially the judges, who gave him his ticket to Hollywood without hesitation. As Lazaro moved along through the weeks of auditions, however, his charm began to wear thin for many when he started forgetting song lyrics, singing off key and ruining group performances on a weekly basis, while more talented singers were being voted off.
To make things even worse, he blamed everything and everybody but himself for his lack of singing ability. He said things like "he had never heard the song before", "the week's theme was not the kind of music he usually listened to", "he wasn't familiar with the Beatles or Motown" or the excuse that turned out to possibly be an outright lie; that his "song was changed at the last minute and he had no time to rehearse" (a claim that Jimmy Iovine swiftly refuted on-air.) When asked by reporters about his disastrous performance of "Close To You", Lazaro said "we had a last-minute key change, and it was something we didn't rehearse". Really? It's a little hard to imagine that.
When asked if he was disappointed that he was eliminated, he said, "My main goal wasn't to win a TV show. My main goal was to get known as an artist and to have people that love me. So I don't want to win." Lazaro's enthusiasm is exceeded only by his naivete. He went on to say, "No, as long as I get signed and go on tour and people buy my records, I'll be fine!" When he puts it that way it sounds easy enough, doesn't it? When asked about his future plans, Lazaro said, "I am trying to contact Ryan Murphy (Creator of Glee), so if he stops by tell him to call me". If Jessica Sanchez can do it, why can't he?
Burnell Taylor attempted to blame Lazaro for the disastrous group performance of "Sugar Pie, Honey Bunch" during which Lazaro again forgot his part. Was it retribution from Lazaro's fans that got Burnell voted off the following week? When Burnell heard the news of Lazaro's elimination he tweeted, "God is Good!"
The cute and cuddly persona that Lazaro projected on Idol is quickly unraveling as he answers questions in the many interviews he has given since his elimination. He told one reporter, "I'm not gonna say names and I don't wanna sound rude. But I think that one woman in particular is craaaazy and she wants to win!" He doesn't want to sound rude? He also said, "She thinks that we're in The Hunger Games and she's fighting for her life." Rumor has it that he is referring to Top 5 finalist Angie Miller.
Lazaro isn't content to disrespect his former companions on Idol, he also has said that the judges "have made horrible records". The sour grapes don't seem to be limited to only Lazaro. Recently, former Top 10 finalist, Curtis Finch, Jr. fired off an angry tweet saying that it should be him on the Idol stage instead of someone who constantly forgets his lyrics. Curtis tweeted this message, "Honey he has BEEN MESSING UP!!! Forgotten lyrics and all! Why am I at Home?!?!" That's a valid question coming from Curtis.
With all of this animosity, the long hours spent together on the American Idol 2013 tour bus this summer should be loads of fun for the Top 10 finalists and wildcard pick, Aubrey. At least we can all look forward to some interesting tweets coming from that bus and backstage at the performances.
Source: AmericanIdol.com, FOX.com