If the name Jillian Jensen sounds familiar to her, you might remember this American Idol 2014 contestant from her time on The X Factor season 2. She made quite a name for herself on the show, and garnered a lot of fans, but ultimately failed to make the Top 12 finalists. Now she's out to try to conquer American Idol season 13 and make it all the way to the finale this time.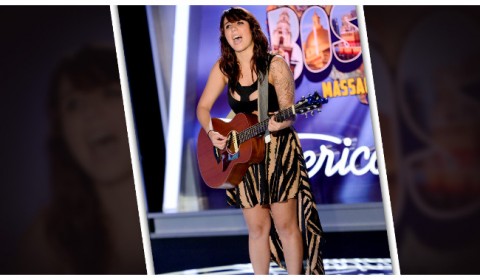 American Idol Jillian Jensen Audition:
Road to Hollywood Interview:
Background:
According to WetPaint.com, Rochester, Massachusetts based Jillian Jensen has loved music since she was two years old and picked up her first instrument. She started songwriting by the time she was eight and eventually taught herself to play the guitar, piano, violin, drums, bass, saxophone, and Ukulele. Wow! Not only that, but Jillian has already written over 100 songs, and released two independent records, Reflections in 2007, and Green Light Go in 2008.
Jillian, now 21, first made a bit of a name for herself on The X Factor season 2 as one of the 'Young Adults group semifinalists on Team Demi Lovato. Her initial audition for the show performing "Who You Are" by  Jessie J. greatly impressed her future coach, who actually leaked tears during Jillian's performance while holding a hand to her heart.
When Jillian was done with her very emotional performance, Demi went up on stage to hug her while Jillian cried on her shoulder. Fellow X Factor 2012 judges Britney Spears, L. A. Reid, and Simon Cowell were moved as well, and Jillian made it through to the next round.
We learned the pain Jillian was singing through during her audition was largely a result of extreme bullying she suffered in school. At times during her stint on The X Factor USA, her story seemed to be more of a focus than her music, and some fans were a little put off by her extreme emotionalism.
When she was cut before the Top 12, Jillian Jensen was absolutely devastated and collapsed in tears. Honestly, had it been us, we probably would have done the same thing. Regardless of her background, her story, or how she wore her feelings on her sleeve, we always thought Jillian's talent was what was really important, and we're delighted to get to see her have a second chance on American Idol 2014.
After The X Factor, Jillian used the time in the spotlight to help propel her career as a singer/songwriter, appearing on various talk shows and local TV programs, touring around the country, and continuing to work on her original music, such as the song featured in the video below.
Jillian has most of her personal Facebook information hidden from public view, but you can see some fun photos of her new look on her stream. We also garnered from her page that she is a graduate of Bishop Stang High School in North Dartmouth, Mass, and attended Bristol Community College. Among her favorite things are the Providence Bruins, Angie Miller, Gwen Stefani, Ted the movie, The Fosters, and the Suicide Girls (warning NSFW).
Here's some other interesting bits of trivia for you about Jillian we've collected. She actually sang back-up vocals for former The X Factor judge Nicole Scherzinger in 2011 before ending up as a contestant on the show the next year. She is also one of the lead singers for the band the Sultans of Swing, performing throughout the country for "corporate events, weddings, etc." and worked on an anti-bullying musical school tour in the fall of 2012.
You can keep track of what Jillian is doing professionally via her website, Twitter account, or official Facebook fan page. Listen to more original music and covers from Jillian on her YouTube channel.
So far Jillian Jensen has impressed the American Idol judges enough to make it to the Top 30 in Hollywood. How far do you think she'll get in season 13?