We are desperate to hear some big WOW moments on the American Idol 2014 Top 11 performances show tonight. We don't have any American Idol spoilers on what the finalists will be singing this evening. However, we're hoping the song theme for this week will give the contestants plenty of opportunities to impress us and American Idol judges Harry Connick Jr., Jennifer Lopez, and Keith Urban.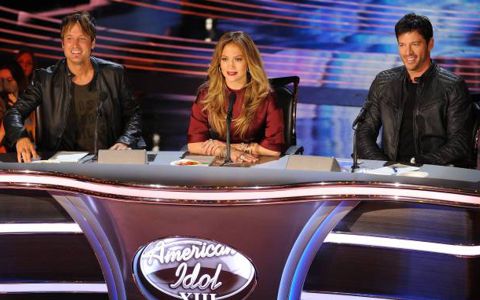 Our original American Idol 2014 spoilers had the song theme for this week listed as "Songs From the Cinema." However, we've also heard tonight's theme referenced as "Soundtrack of Our Lives." Either way, there should be tons of songs for the American Idol Top 11 to perform that will truly show off their diverse vocal styles and abilities. Well, we hope so anyway.
While we don't agree with TV Guide when they say this is the "most boring" group of American Idol finalists ever (we give that to season 9), the contestants really, really need to step it up this week. Last week's American Idol performances show was a bomb, and only a couple of the singers managed to pull off a decent showing — and even those were not standing ovation material.
We kick off tonight with a video montage of the American Idol Top 11 and it's all about giving it your all tonight because it's getting serious. Then we have our typical intro of the finalists and the American Idol judges, and a bit about this evening's show, which is all about "Songs From the Cinema." The song choice has to be from a movie soundtrack.
Jennifer Lopez is actually wearing full clothes tonight (mostly) but her dress is such a bright shade of hot pink it is hard not to be blinded.
Whichever contestants survive this week will get to go on the American Idol Live Tour this summer, which means cash, promo deals, and lots more face time in front of the fans. Everyone is wanting that for sure!
A bit of chatter from the American Idol 2014 judges about what the contestants needed to do to prepare this week. And then it's time to get going with the performances!
American Idol Top 11 Performances:
Sam Woolf: "Come Together" by The Beatles from Sgt Pepper Lonely Hearts Club Band
This is one of those songs you feel like the singer needs to have really lived to sing it with the pain and passion it needs. Sam has decent vocals on the song, but we just aren't feeling it in our guts. And with this song, you have to feel it deep in your gut like it is grabbing you and yanking you around. We also aren't feeling the t-shirt and shiny blazer with this song. So not the right visual.
The American Idol judges are so-so about it. They don't think they pushed it enough and harry called it an "average performance" and a "pretty good job. We agree.
Vote Sam Woolf: Text 12 to 83676 or call 1-855-4-IDOL-12 (1-855-443-6512)
Jessica Meuse: "Sound Of Silence" by Simon and Garfunkle from The Graduate
We love this song, but Jessica is sounding a little sharp and flat on it. Although it is hard to tell because this song is a little odd that way anyway. Still, it's not really what we wanted tonight. We wanted to hear something rocking and powerful. Instead, we get a song that is too nasal, too quiet, and doesn't really show off her vocals to best effect. (Ryan notes after the performance that the band was actually off with Jess for a moment or two.)
The American Idol judges seem to agree that it wasn't the most stellar performance. J-Lo says it seems "like the perfect song" but she felt like Jessica just never got her "groove on." Harry likes it more, although we feel like he gave some backhanded compliments. Keith tells Jess she needs to be more dynamic and think about how she is using the mic in a very different environment than she is used to.
Vote Jessica Meuse: Text 10 to 83676 or call 1-855-4-IDOL-10 (1-855-443-6510)
CJ Harris: "Can't You See" by Marshall Tucker Band from Blow
This is exactly the right kind of song for CJ. We wouldn't say it is one of the very best performances on the show ever, but it's a really strong song for CJ. He shines and we remember why he is in the Top 11 in the first place.
All of the American Idol judges are loving it. Harry says CJ is back in the competition, and J-Lo says this song makes him a front-runner. Harry says it doesn't even matter that he was a bit sharp, because he could feel the performance and that's what matters.
Vote CJ Harris: Text 5 to 83676 or call 1-855-4-IDOL-05 (1-855-443-6505)
Dexter Roberts: "Sweet Home Alabama" by Lynyrd Skynyrd from Sweet Home Alabama
In what is probably the most obvious song choice ever, Dexter Roberts takes on the unofficial anthem of his home state of Alabama. Not a bad idea considering it's totally in his wheelhouse. Plus, it pretty much guarantees he'll get a huge block of Southern votes. he could sail all the way to the Top 5 at least off that voting block.
Keith loves Dexter's new haircut, which makes him look a bit more grown up and polished. However, he thinks Dexter had to do more than just sing it well. He needs to invest it with her personality. J-Lo says kind of the same thing and says that Dexter really has to believe he can win and he's starting to show that more. Harry says he thinks Dexter was really, really smart by doing a song that everyone knows and giving a solid performance. However, he needs to give it more creativity.
Vote Dexter Roberts: Text 1 to 83676 or call 1-855-4-IDOL-01 (1-855-443-6501)
Ben Briley: "Bennie and the Jets" by Elton John from 27 Dresses
He's never seen the movie, but he loves Elton John, so Ben has picked a song that also happens to go with his name. He's cleaned up tonight and has his hair slicked back and is wearing some kind of fuzzy dark green suit. It's an interesting look… We aren't feeling really killer about this performance. It's nice, but not wow and he is not a wiz on the piano. It's just a little weak.
The American Idol judges don't think it was powerful enough either. Harry Connick Jr. in particular really gives him some harsh criticism, and even accuses Ben of not being real. Jennifer just doesn't know who Ben is an artist because he keeps wandering all over the map with his songs. Keith isn't thinking it so hot either and he feels like Ben has lost his authenticity and has lost his realness as an artist.
Vote Ben Briley: Text 4 to 83676 or call Call 1-855-4-IDOL-04 (1-855-443-6504)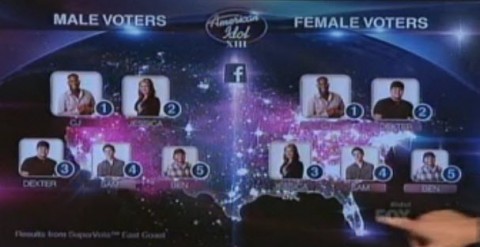 Before the next performance, we take a break with host Ryan Seacrest to see how the voting is going so far, split by male and female votes.
Majesty Rose York: "Let It Go" by Idina Menzel from Frozen
Majesty says this song should have been written for her and she seems very, very confident about it. We think it is very daring to take on a song that is SO huge out there right now and just won an Oscar. The sad thing is that we feel she doesn't do a very good job with it at all. Although we're sure her fans will bash us for that. But she sounds like she's out of breath, she's pitchy, and she loses the high notes in places. Honestly, it sounds like one of her weakest performances.
The American Idol judges, however, are far more loving. Harry says he feels like Majesty is singing so many different kinds of things, he isn't sure exactly what kind of singer she is. However, he did think it was a strong performance. If she is going to do so many different styles though, she has to be perfect. Keith Urban says his wife (Nicole Kidman) and kids are watching from home and probably loving it. He says that it is a really big song though and she needed to ease in into it a little more and not attack it so much. J-Lo says she could be singing songs for Disney, or be an actress, or on Broadway, or whatever. She thinks it is a positive that Majesty has such variety, not a negative.
Vote Majesty Rose York: Text 7 to 83676 or call 1-855-4-IDOL-07 (1-855-443-6507)
Caleb Johnson: "Skyfall" by Adele from Skyfall
Our rocker is dressed up tonight, going for a little bit of long-haired James Bond with his performance. We thought this song choice was really kind of odd… but we are actually loving it! It's a totally different side to Caleb hearing him do this kind of clear, sweet ballad voice. We don't know if the American Idol judges will like it, but we really dig him doing something different than his usual big rock.
Keith Urban gives Caleb a brief standing ovation. He says Caleb was totally unpredictable tonight but still dependable, something Harry talked about last week. He loved it. Jennifer Lopez trips over her words but says she has been waiting for this kind of performance. Harry says he stands by saying last week this is his favorite group of contestants ever. He thinks the competition really started tonight and Caleb was "fantastic."
Vote Caleb Johnson: Text 13 to 83676 or call 1-855-4-IDOL-13 (1-855-443-6513)
MK Nobilette: "To Make You Feel My Love" by Garth Brooks & Trisha Yearwood from Hope Floats
MK is doing a song from one of Harry Connick Jr.'s movies tonight. She's not wearing a hat tonight, at last, but instead she has died her hair a crazy yellow and spiked it up. She apparently just can't have normal hair… But, of course, it's not about the hats or the hair. It's all about the voice. And, tonight, the Glee-style Sue Sylvester track suit. Okay, sorry, the voice. The song is good in places and weak in places… it's more the right kind of song but she's still lacking confidence and wanders off the pitch a bit. We wanted a strong, powerful ballad. This is more of a kind of a pretty but weaker ballad that doesn't really have the wow and ooomph she needed being in the bottom as she is.
Jennifer Lopez says she felt MK really trying to connect and talks about how she can't help thinking about k.d. lang when she hears her. Harry agrees with J-Lo that MK has a subtle voice and he thinks she does have star quality. He cautions her that she does need to be careful with runs if she does them, they have to be perfect. Keith says MK is still working on her performance but she sounded great tonight. He says there was a moment where she lost herself and the audience connected, and that's what she needs.
Vote MK Nobilette: Text 6 to 83676 or call 1-855-4-IDOL-06 (1-855-443-6506)
Alex Preston: "Falling Slowly" by The Swell from Once
We were very wary of Alex doing this song because it has been so done so many times. We especially remember Alex and Sierra doing this song on The X Factor and it was amazing. We don't now if Alex Preston really gets the same wow from the song that they did, but we do think it was very lovely. Not one of our favorite performances ever on Idol, but it is certainly one of the best of the evening.
The judges oddly don't really have a lot to say. They are just kind of say a few complimentary words and then move on very quickly. We feel like maybe they have been told they need to keep it short and go faster?
Vote Alex Preston: Text 9 to 83676 or call 1-855-4-IDOL-09 (1-855-443-6509)
Jena Irene Ascuitto: "Decode" by Paramore from Twilight
We reserve all judgement about doing a song from Twilight, although it certainly appeals to a HUGE fan base out there, which is never a bad thing. We do feel this is probably the best female vocal performance of the night so far. Jena also doesn't have any problem banging on the keys for her performance, that's for sure. She's strong, on pitch, powerful, and the crowd is on it's feet.
The judges are on their feet too! Jena pulled it out tonight and it's obvious since the crowd will not shut up to let the judges talk. Keith says he loves when Jena plays the piano and gets fierce and 'hurtles along the cliff' with her performance. He loved it. J-Lo says she doesn't know why Jena was in the bottom three last week because she has one of the best voices and she's the real thing. America needs to get on board because that was the best performance of the night. Harry says he is a huge fan of Paramore and her performance was just as good as theirs but different and her own thing.
Vote Jena Irene Ascuitto: Text 8 to 83676 or call 1-855-4-IDOL-08 (1-855-443-6508)
Malaya Watson: "I Am Changing" by Jennifer Hudson from Dreamgirls
Malay has the final 'pimp' spot tonight and the big power ballad as well. This is basically a recipe to pull in votes for her by the carload. We think the performance is strong and powerful, but… it kind of pales in comparison to Jennifer Hudson. If you put the two performances side by side, we just think Jennifer would blow Malaya away like a plastic bag in a windstorm. Certainly one of the top performances of the night and Malaya does a great job, but we don't think this will be one of those songs people are playing over and over years later.
The judges love it, of course, and they are full of praise for Malaya. Keith Urban is kind of the only one who gives a little criticism that she could have maybe pulled it back a little to give the performance more finesse.
Vote Malaya Watson: Text 2 to 83676 or call 1-855-4-IDOL-02 (1-855-443-6502)
Note on American Idol Voting Numbers:
* Please note that the American Idol phone numbers this year for the finalists are the same every week, unlike previous seasons when they depended on performance order!
Or vote online via SuperVote at AmericanIdol.com or through the Idol app.