Back in May FOX revealed the American Idol 2015 schedule would feature a reduce episode order resulting in the elimination of the weekly results show. Now host Ryan Seacrest is confirming the established expectations with details on what's to come.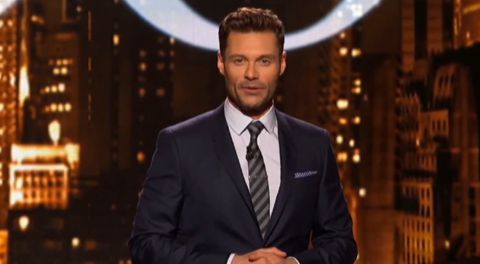 Seacrest shared the latest on Idol over the weekend while attending the Z100 Jingle Ball in NYC. The Idol host reiterated FOX's plans to combine the performance show and results show in one episode after the season premiere in January 2015. Ryan Seacrest explained, "so there won't be a "Wait 'til tomorrow night.' There won't be a 'Coming up, coming up, coming up.' We are going to put it all into one format in one night. So that will be exciting."
Once the show hits one night a week we'll watch both performances and results show wrapped up in to one episode. While it's not ideal this approach has been done by So You Think You Can Dance and last year with Dancing With The Stars. Say goodbye to silly filler material on Idol results show, but sadly that'll cut back on opportunities for returning Idol contestants and guest performances.
Since FOX typically pulls strong numbers with the American Idol auditions phase of the seasons they'll be keeping two shows a week through those and beyond. Not until March 26, 2015 will we see the Thursday night shows cut from the routine.
In past seasons that stage of the competition would put us well into the finalists rounds and single digit Hopefuls to go. Ryan says this year that could be the Top 10, but with Judges' Saves and all you never know.
What do you think of FOX's plans for the American Idol 2015 schedule? Are you glad to see the extra show cut or will you miss the two-night experience of Idol each week?