This week on American Idol 2015 the Top 10 perform as another contestant is cut from the race when Idol shifts to Thursday for a special night.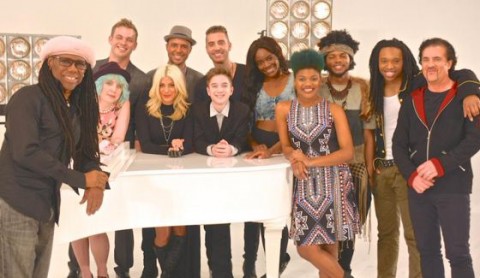 The remaining Top 11 contestants have been working all weekend to get ready for their next chance at your vote and that including meeting with Nile Rodgers. Rodgers helped the American Idol 2015 singers work on their movie songs selections and we'll hope to get some early spoilers leaks on what we can expect from this crew.
As you may notice, Maddie Walker is again missing from this group photo as she was in the official Top 11 group shot. We heard during last week's show that she was having some health trouble, but there haven't been more details than that. Hopefully she'll be doing better soon and won't miss the upcoming show.
American Idol 2015 airs this Thursday at 8/7c for a two-hour show. If you tune in on Wednesday then you'll get the season finale of Empire instead, but don't worry because American Idol will be back on Wednesdays in another week.
Be sure to join us on Facebook, Twitter, and by Email to get all the latest Season 14 Idol news.
American Idol Judges weigh in on possible song themes: