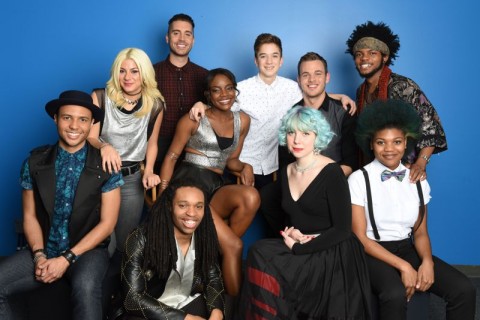 The American Idol 2015 contestants are all on a level playing field now as the guys and girls are one. So this is the first time I've had to rank them combined. So this is going to be interesting for sure!
1. Jax. I think Jax remains high on any list right now. Based on her social media presence and her performances, I think she'll be around for a very long time.
2. Clark Beckham. I want to rank Clark #1 because he's clearly the best in the competition. But right now I think Jax might be edging him out just slightly.
3. Tyanna Jones. I can't be completely sure how America feels about Tyanna, but if it's what I'm thinking and hoping then it's very high on the list. She's an amazing talent and deserves to stick around.
4. Daniel Seavey. Daniel clearly isn't the best vocalist. The judges are even finally seeing it and saying it. But the public has seen him praised so much that all that paired with his cuteness likely have them convinced he's actually really, really good. So he's safe for a bit, I'm guessing.
5. Joey Cook. Joey by no means is my favorite singer, but a lot of people like her and after her performance last week, I think a few more people hopped on board. I know I though it was her best performance ever because she actually showed she can sing and not just be quirky.
6. Maddie Walker. I think Maddie is showing people she can actually sing now. And the fact that she's the official country singer of the season, she should be able to ride that wave for awhile.
7. Rayvon Owen. His smile alone should keep him around for awhile. But his performance last week surely gained him a few new fans.
8. Nick Fradiani. I'm never sure what people are thinking about Nick. I don't think he was in the bottom last week, but I think some people might be thinking that and will vote for him for that reason.
9. Adanna Duru. I think her almost going home saved her last week, but she's not a great singer and if Sarina-Joi can't make it then Adanna's days are numbered.
10. Qaasim Middleton. I think Qaasim could be in danger this week because his fans did not respond well to his performance last week. They like the guy for his stage presence and energy. And last week he relied only on his singing and that showed us that he's not really a great singer.
11. Quentin Alexander. I think the wild card aspect is what kept Quentin around that extra week, but I don't think this week it is going to be enough. I fully expect him to go. If it's him will the judges save him? I doubt it since they've already saved him once technically.
How would you rank the American Idol Season 14 Top 11?