Last week on American Idol 2015 host Ryan Seacrest mentioned Maddie Walker was having some health issues following her performance but we didn't know just how serious her situation would become.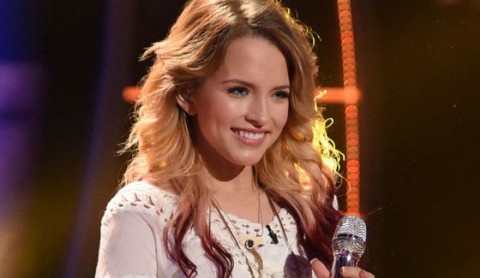 Following Thursday's show the official American Idol 2015 Top 11 contestants gathered for a group photo, but readers were quick to notice that Maddie was not with them. A few days later the remaining contestants met with this week's mentor, Nile Rodgers, and again Maddie was not in the picture. So where is Maddie Walker?
click images to see full-size views
Update: Contrary to Savion Wright's claims, Maddie's appendix did not rupture or burst, according to Scott Borchetta. He suggests it was just the flu though she did spend a few days in the hospital receiving medical attention. Maddie Walker will perform this week.
Last night former contestant Savion Wright posted to Twitter the news that Maddie was sick and in the hospital because her appendix ruptured after her performance:
Saying a prayer for Madisen: @TheMaddieWalker. Her appendix ruptured the night of her performance and is recovering… pic.twitter.com/LIrIJpRpdE

— Savion Wright (@SavionJWright) March 16, 2015
Maddie has been busily posting to her Twitter account which is a great sign, but there's been no official word as to whether or not she'll be able to perform this week on American Idol. We're wishing her the best and hoping for a quick and full recover so she can get back on the Season 14 stage and continue to represent Country!