Tonight on American Idol 2014 this year's Top 4 finalists take to the stage to sing for your votes with another fun theme for a round of double performances.
*UPDATE: Click here for our full American Idol recap of the Top 4 performances show with videos!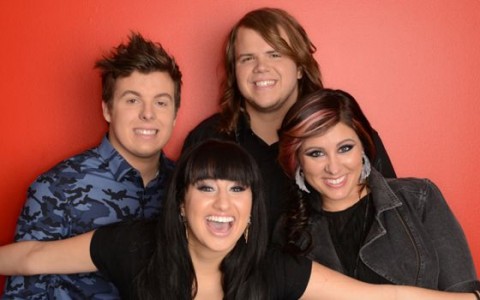 Starting Wednesday night there's another two-hour live performance show with songs bitten by the love bug. This week's theme on Idol is "Love: Break-Ups & Make-Ups." We're assuming that means one song will be on each side of that divide and we can't wait to see what the Top 4 bring at us, even if they don't use our song picks!
Then tomorrow night, on Thursday, we'll get the American Idol results to discover who is going to leave just shy of the Hometown Visits round. Of course we were almost set up to see two singers leave this week but the finalists put an end to that twist last week.
Join us tonight for the show and enjoy the fun with us and all the readers here!
click thumbnails to see full-size
American Idol's Top 4 perform tonight: