No one better get too comfortable on American Idol for the next few days because this is Daughtry Week!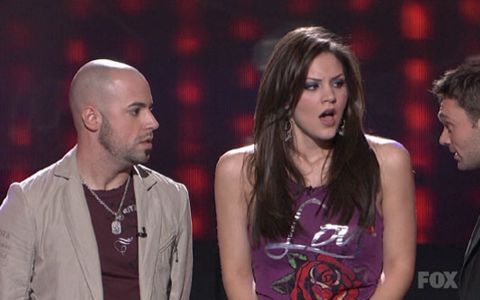 Chris Daughtry was eliminated during the Top 4 results show back at season 5 in what is often considered the most shocking elimination show in American Idol's history. Other notable strong favorites eliminated in the Top 4 include Tamyra Gray of season one, Josh Gracin of season 2, Jason Castro of season 7, James Durbin of season 9, Michael Lynche of season 9, and Hollie Cavanah of season 11.
The takeaway here is no singer is safe and nothing is guaranteed when it comes to moving on in the competition and scoring a spot in the next round. All of this season's remaining finalists, Alex Preston, Caleb Johnson, Jena Irene, and Jessica Meuse, need to step it up tonight or risk facing elimination.
Current front runners Caleb Johnson and Jena Irene have a strong chance of moving on while Jessica Meuse would be considered a more likely elimination following her repeat appearances in the Bottom 2. Would anything be more shocking for this round than for her to move on and one of them to go home?
Who is your most shocking American Idol elimination in the show's history?
Be sure to support your favorites and get in on the American Idol voting tonight when the show starts at 8PM on FOX!