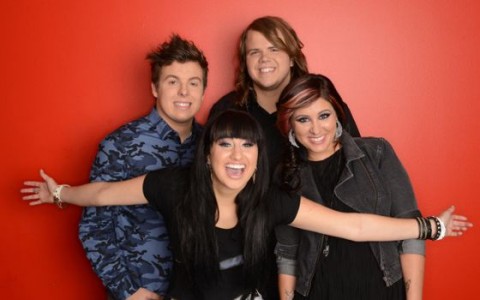 The American Idol 2014 Top 4 will be singing songs from the theme "Love: Break-ups and Make-ups." Most bloggers are confused by this, but I take it to mean they'll be singing two songs each: one about break-ups and one about making up. So, that's what I'm going with for this week's song suggestions!
Let's get to it. So what should the American Idol 2014 Top 4 sing? (Please no "Against All Odds" or "I Will Always Love You" PLEASE!!)
Jena Irene, "Total Eclipse of the Heart" by Bonnie Tyler/"Underneath it All" by No Doubt. A great balance, I'd say. A strong break-up song and a rockin' make-up song. Perfect for Jena. I also would like to hear Jena do "Must Have Been Love" by Roxette.
Caleb Johnson, "Never Say Goodbye" by Bon Jovi/ "Open Arms" by Journey. Those are two solid break-up make-up songs for him. But of course I've heard he hates getting song suggestions from fans, so let's see what kind of amazing choices he makes this week.
Alex Preston, "Somebody That I Used to Know" by Gotye/"Let's Stay Together" by Al Green. I think this would be a good balance because the first choice is relatively new and the second is actually quite old, so younger viewers might feel less alienated by the older song.
Jessica Meuse, "Need You Now" by Lady Antebellum/ 'The Power of Love" Celine Dion. I had a hard time coming up with the second song for Jessica, so I'm not loving it. But I think the first song is perfect for her. Even if there is supposed to be a guy's part.
I will add that I'd love for anyone to sing Joy Division's "Love Will Tear Us Apart" (maybe Jena?), but I don't see that happening.
What would you like to hear the American Idol 2014 Top 4 sing this week?