Tonight on American Idol 2015 the auditions continue as Harry Connick Jr., Keith Urban, and Jennifer Lopez join host Ryan Seacrest as the meet new Hopefuls vying to be the next American Idol Superstar.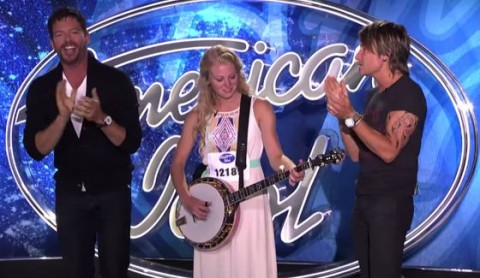 Picking up where things left off last week we've got more Kansas City auditions including Hopefuls like Joey Cook. Joey's accordion supported performance won't be the only notable instrument garnering a Golden Ticket tonight either.
In the latest promo from FOX and American Idol we've got Ellen Petersen and her banjo that not only earns her a path to Hollywood and possibly beyond, but also a very fortunate opportunity to perform alongside Keith Urban and Harry Connick Jr. How cool is that?!
American Idol airs tonight on FOX starting at 8PM ET/PT for a one-hour auditions episode followed by Thursday's show running 8-10PM ET/PT. Join us here live through the show for all our coverage and then find us on Facebook, Twitter, and by Email Updates for all the latest news and Idol spoilers sent right to you!
American Idol 2015 Auditions continue – Surprise performance by Judges: