The American Idol 2015 season continues with the next round of auditions featuring some of the best the city has to offer the returning Judges Lopez, Connick, and Urban, but wait, there's more! Guest judge Adam Lambert will be on hand tomorrow night to provide his unique perspective as we see the student become the master. Let's see what they deliver for tonight's American Idol show!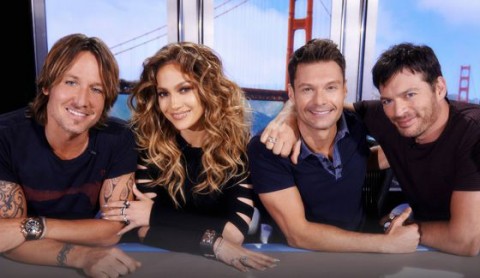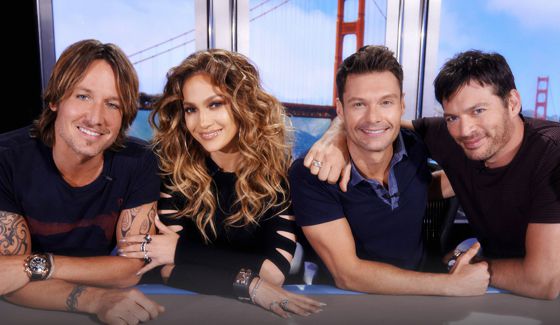 Last week the judges were facing tough choices and great talent in Kansas City where tonight's show picks up. We'll head back there to see what the Idol Bus turned up in its cross-country tour before our next stop in New York City on Thursday when former American Idol finalist Adam Lambert joins the panel.
Our live recap begins tonight at 8PM ET with all the details from the auditions plus videos of the performances. If you missed anything you can now watch full Idol episodes online as a first for the series. Join us in our Idol chat room right now and talk about the auditions with other Idol fans!
First up tonight in Kansas City we've got ladies man "Big Ron" who walks in to his audition singing "Jenny from the block" which got JLo singing right back with him. Nice! Ron Wilson is singing "Let's Get It On" right to Jennifer while the guys chat and walk out together as a joke. Harry praises his showmanship but says he needs to balance that out in the performance. It's three "yes" votes for Big Ron who heads on to Hollywood!
Ian Subsara is another less serious audition, but unlike the last Hopeful it's not such a great thing as the Judges push Ian to go as high as he can. Harry takes over the piano and pushes things to the limit, but that limit doesn't include a Golden Ticket. Next!
Ashley Lusk, Josh Sanders, and Casey Thrasher make up the next montage with all three finding their way on to Hollywood. You might remember both of those guys from past seasons of Idol. Now we move on to a very interesting American Idol audition.
Joey Cook is here to reintroduce the accordion to the mainstream music scene and she's doing great with her squeezebox, a reference that gives Jennifer pause. Keith tells Joey that she has the best voice he's heard all day while Harry reminds her to watch the blurring line between being unique and becoming a novelty with her performance. It's on to Hollywood Week for Joey Cook!
Looking to change the Country look we've got Alexis Gomez with Little White Church and an enthusiastic voice that definitely gives the Judges pause. All three judges agree that she's got the potential, but Keith isn't willing to send her through. Lucky for Alexis, Jennifer and Harry agree to give her a shot at Hollywood!
Anton Bushner is ready to audition for his chance at a Ticket and he's performing "Tonight I Wanna Cry" for his favorite, Keith Urban. Harry goes first and says he loves everything about him. He likes his voice, presentation, and personality. Jennifer calls for a vote and Anton is on to Hollywood Week.
A soft-spoken contestant walks in and we meet Stephanie Gummelt who is there to sing her own original song as her mom looks on from the viewing room outside along with Ryan Seacrest. She does great and gets the Judges talking and thinking.
They ask for her influences and she cites James Taylor, Joni Mitchell, and Steve Perry. Jennifer says she likes to hear her sing while Harry suggests she isn't ready. Harry says no, but there are two more yes votes to outweigh him and Stephanie has a Golden Ticket.
Family support is the next segment and it features Ashley Stehle, a 15 year old Hopeful who brought her parents who are deaf but can now hear her for the first time thanks to new technology. The Judges are not moved by her performance of Alicia Keys' "If I Ain't Got You," but her father is clearly moved and proud. Jennifer says Ashley was singing very off key. Harry says that she's just not ready for Idol and Keith agrees. It's a no for her this year.
Ellen Petersen who arrives with her banjo and delivers a really great performance of "I Want To Be A Cowboy's Sweetheart." Harry says she's "really, really good" and praises how she didn't overplay the banjo. Keith says she's clearly a pro with so much more potential. Jennifer loves everything about her performance and says she's on the cusp of blooming. It's three Yes votes but it's not until she's on her way out the door that we get some great fun.
Keith and Harry call Ellen back to perform the Beverly Hillbillies theme song since she's going from the country to Hollywood. Jennifer Lopez says she has no idea what song that is and wonders how the guys know all the words. She says they "didn't have that in the Bronx." Oh, JLo.
Closing out the night we've got Kohlton Pascal who is a traveling street performer looking for his shot at fame through his passion for music. He starts out his audition with an original and it's a guttural tune here. It's an interesting and unique sound, but I'm not sure it's going to move the Judges. Harry says he's terrific but immediately follows that up with what concerns him. Heh. Harry warns this will push Kohlton out of his comfort zone while Jennifer wonders if it'll be too much dark and depressing from him.
The judges weigh the situation and decide that even though his performance might not be the right match they think he's got potential and want to hear more from him. Three Yes votes sends Kohlton Pascal out to Hollywood along with 37 other Golden Tickets. Next stop: New York!
Join us on Facebook, Twitter, and by Email Updates to get the latest news then we'll see you for the next American Idol!