Tonight on FOX the American Idol results are revealed for the Season 14's guys seeking to make it to the Top 16 where they'll perform for your votes in Detroit's Fillmore Theater under the guidance of legendary Aretha Franklin.
Update: Can't wait for the official results? We've got your Top 16 Idol spoilers here!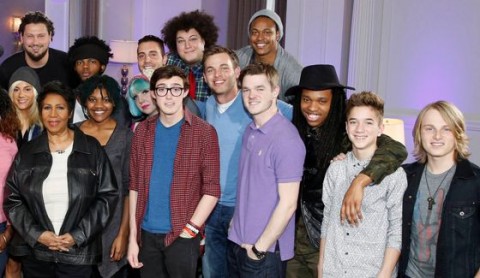 Aretha Franklin mentored all of the Top 24 contestants earlier this week and that will be part of tonight's show as all of them are prepared to go on, but only 16 singers will have that chance when our live coverage kicks off at 8PM ET/PT.
Voting has wrapped up for last week's performances and tonight we'll find out who made the cut to the next round of American Idol. Just how those results are announced is still unknown but while one producer has said it won't be at the start of the show we are hearing from the Detroit Free Press that the eliminations will come early.
Of course we may not have to wait until the show to find out who went home tonight on American Idol. Both Wednesday and Thursday episodes will be recorded earlier in the afternoon making plenty of opportunities for Idol spoilers to hit our site.
We've named our song picks for tonight's performances by the guys so it'll be fun to see how close we came on this week's Motown theme which a big catalog of options here as we return to the land of theme weeks.
Join us tonight starting at 8PM ET as we live blog the show with performance videos and results. You can find us on Facebook and Twitter for even more American Idol.