Tonight on the American Idol finale a winner will be crowned when La'Porsha Renae and Trent Harmon step out on to the stage as host Ryan Seacrest dims the lights one last night. It's the end of an era.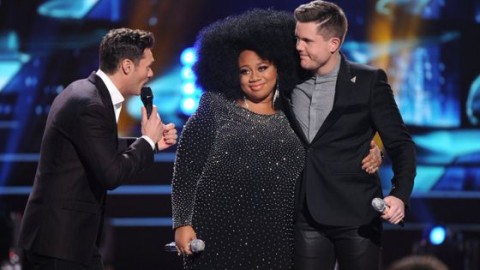 Kicking things off at 8/7c the 2+ hour show will bring back dozens of past Idol contestants and every single one of the seasons' winners for what's got to be an amazing season and series finale for American Idol. Please take note of the run-time as well with the show scheduled to last until 10:06PM ET/PT so if you haven't adjusted your DVR then do so or make sure it's set to record the full time! Very important.
Once the night's special performances are all wrapped up then we'll get down to the business of finding out who won American Idol this year as it will either be Trent Harmon or La'Porsha Renae and this could be a very tight race. Both gave amazing performances last night and are each well deserving of the title, but there can be only one and the stakes are so high even the original winner Kelly Clarkson has announced her support for La'Porsha.
American Idol voting is still open this morning but won't last much longer so get your support going now to help your favorite win the crown. Then join us tonight starting at 8PM ET right here to find out who will win.
Be sure to join us back here tonight and we'll keep you posted on all the results and how to vote live throughout the show. Are you ready to find out who moves on to the final stage? Join us on Facebook, Twitter, and by Email Updates.