American Idol 2016 finalist Trent Harmon is considered a strong favorite to win it all on the final season of the epic reality show competition. His legions of fans have been behind him all the way, consistently voting to keep him safe every week. None of them, however, are more proud of Trent Harmon and his journey on American Idol than his friends and family back home.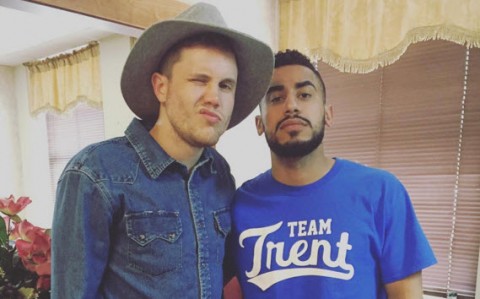 Trent journeyed back to his hometown of Armory, MS this past weekend to celebrate becoming one of the American Idol Top 4 for season 15. The town held a parade in honor of his return, and hosted a concert by Trent for local fans at the Armory High School football stadium. The experience of getting to interact with his fans in person was very special for the American Idol finalist.
"I try to love on my fans as much as I can, you know, but it's not the same through [social media]," Harmon said, according to Mississippi News Now. To come back and actually shake hands, and for them to shake m hand and say, 'Hey man, I voted for you', I believe them."
During his return back home, Trent Harmon received a special visit from fellow American Idol 2016 contestant Manny Torres. The young singer, who wore a Team Trent t-shirt in support, told reporters that Trent deserves "every little bit" of attention and celebration he is receiving. "The community that's getting together for Trent, that's so awesome for him."
"Getting to see all these people here, I feel like it's so much better than Facetiming," Harmon said at a press conference, reported by DJournal.com. "I've gotten cookies from people in Amory in the shape of guitars and the state of Mississippi. It's just weird. It's crazy."
Trent's American Idol conquest almost didn't happen though. He told reporters that he almost quit trying to become a singer after losing out in a local talent show. "I thought about quitting, but I did it for one more year and look what happened," Harmon said. "It's just hard work. It's not easy. You don't show up on show day and sing a song on stage. You put in hours and sacrifice enough sleep that you hope you stay awake during show day."
Getting so far on American Idol has truly taught Trent a lesson about perseverance. He said that he would tell those who might be feeling down about following their dreams to "just do it for one more year." Whatever it is, and no matter what age you are, Trent told reporters, "do it for one more year. And then if you want to quit, then at least you can say you did it."
Well, we are so very glad Trent Harmon decided to give it one more year, especially since he could very well end up being the last American Idol winner ever! Are you rooting for Trent to win it all? Tell us if you are Team Trent in the comments area below! And be sure to join us for the American Idol finale this Thursday and watch the end of an era as the show comes to a close after fifteen seasons!
AMERICAN IDOL: Contestant Trent Harmon visits his hometown of Amory Mississippi. CR: Jeff Neira /  FOX. © 2016 FOX Broadcasting Co.