The American Idol 2014 Top 11 took to the stage Wednesday night to perform songs from the cinema and there were some standout performances. Some were even likely enough to take someone from the bottom to the top.
>> UPDATE: Click here for our full recap and results from this week's elimination!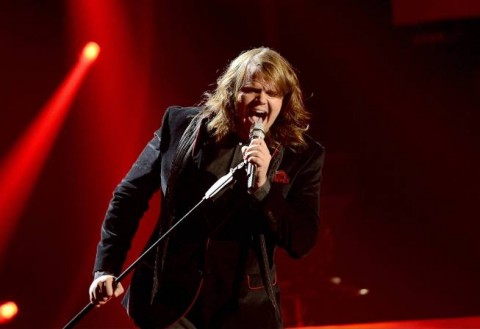 Let's get down to business. As always, I'm going to predict how voting results will play out. Things might look differently this week, which is surprising. I don't expect to exactly nail my predictions this week, but I'll try. This is all based on polls, statistics from last week, this week's performances and some personal expertise. There is no opinion here.
Who Will Go Home Tonight On American Idol 2014?
Definitely Safe:
Caleb Johnson. I'm pretty sure Caleb won't be going anywhere for a while.
Dexter Roberts. I think he's the only other sure thing this week. There are several people who did not so well last week ranking very well in polls this week. So we could be in for an early shock this week.
Most Likely Safe:
Alex Preston. I'm think with the shift in voting this week, Alex could be closer to the bottom, but I think I'm going to keep him as most likely safe.
Jessica Meuse. I'd love to know what America as a whole thinks as Jessica because she doesn't do super well in our poll and some others I've seen. But I think she's hovering around the middle right now, so will probably be safe tonight.
Malaya Watson. Again, Malaya could end up in the bottom, but I think she's picked up some steam the past two weeks and might be able to ride that a little further.
C.J. Harris. Last week he was in the bottom, but when Ryan Seacrest revealed how Facebook was voting, he was doing very well. So he might just be safe this week.
Jena Irene. I'm nervous about listing her as probably safe because she's been ranking in the bottom, but this week she had a great performance and is killing it in several polls.
Sam Woolf. He didn't seem to be doing too well when Ryan showed us how Twitter was voting, but I think he's OK for now.
Possibly the bottom three:
MK Nobilette. I think she's going to always be in the bottom until she goes home.
Ben Briley. I wasn't expecting Ben to be in the bottom this soon, but he doesn't seem to be doing well with America at the moment.
Majesty Rose. This is where I get confused and want to close my computer. I don't see Majesty in the bottom but most other people do. I guess it's possible. But I think we could still see Jena or CJ instead? Ack! I don't know!
Probably going home:
MK Nobilette. I don't think she can survive another week in the bottom.