On the American Idol results show tonight, the season 13 Top 10 contestants will be finally be revealed! In the same moment, they'll also learn which of their new friends will be the one who was eliminated on American Idol tonight and won't be joining them for the live tour. It's going to be a very bittersweet moment for the American Idol 2014 Top 10 singers, we're sure.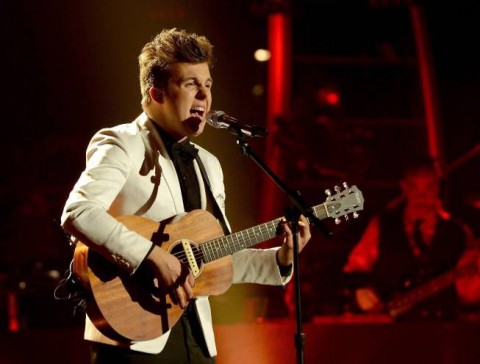 We're kind of hoping it is all a tease though, and the powers-that-be will actually retroactively decide all of the Top 13 get to go on the American Idol Live Tour this summer. Wouldn't that be nice? After all, if you've made it this far, it seems kind of unfair to be the one who got voted off American Idol 2014 at the very last minute and be left in the dust.
After last night's much more engaging performances, we are actually a little sad to see anyone go. Of course, not all the songs were terrific, but overall we thought it was probably the best night of the season so far. We were especially impressed by the performances of Caleb Johnson and Jena Irene Ascuitto, who we think both blew it out last night.
We were also happy to see CJ Harris and MK Nobilette step up their game, although we don't know if it was enough to save MK from going home tonight. If it isn't MK going home, we suspect it will most likely be Ben Briley, who gave another rather lackluster performance this week. However, there are a lot of our readers who think Malaya Watson or even Majesty Rose York might end up on the bottom this week after their songs last night.
Here we go! Host Ryan Seacrest says there were over 70 million votes, with a total of over 6 billion votes since season 1. Then he tells us that tonight's outcome may just surprise a lot of people. Oh dear, we don't know if we like what that might mean.
Ryan introduces the American Idol judges, talks about Harry Connick Jr. performing tonight, and then leads us into a montage of the Top 11 from last night.
Ryan says this is one of the most devestating cuts of the season because whoever goes home will not get to be part of the American Idol Live Tour. First to get their results tonight will be CJ, Caleb, and Dexter. We take a look back at their performances and critiques from last night. We think all three of these guys will be safe.
Ryan says… Caleb is safe. CJ is safe. And… Dexter is safe!
Before we go to break, Ryan says we are going to have a dedication to formerly eliminated contestant Munfarid Zaidi. Remember him? We are reminded of the cuteness of Harry Connick Jr. 'cradling' Munfarid in his arms while he sang for his audition. Hilarious!
Back from commercial, and former mentor Harry will be performing a medley of two of his hit songs. Harry may not be everyone's cup of tea, but he's a seriously accomplished musician and he's a seriously gifted jazz man.
Welcome back to Munfarid Zaidi! And yet again, Harry cradles him on stage while he sings a sappy ballad. Harry almost, but not quite, looks like he might blush.
Now it's time for the next results with MK, Ben, Majesty, and Malaya.
Ryan says after the nationwide votes were counted, Malaya is… safe. And… MK is safe as well! Every time we think it's her last week, she just keeps on trucking along thanks to her very loyal fans.
Somewhat shockingly, Ben Briley and Majesty Rose York are both in the bottom three for the first time. After their performances last night, we're not that surprised, but we thought Majesty might still coast in the safe zone tonight.
Before we get to the next set of American Idol results, we have a guest performance from Mali Music. He's a guy who sings and does rap. J-Lo wanted him to come on and perform. This particular song has a whole lot of him singing ya ya ya ya ya and yi yi yi yi — literally. Not such a big fan, although he plays a nice piano.
Now we have Jena Irene Ascuitto, Sam Woolf, Alex Preston, and Jessica Meuse.
Dim the lights and Ryan announces that Jessica Meuse is safe and has made the American Idol Live Tour. Joining Jessica in the safe zone is… Alex Preston. And the last person safe is… Jena!
That means Sam Woolf joins Majesty Rose and Ben Briley in the bottom three.
After another commercial break, Ryan Seacrest announces that Sam Woolf is safe! The last person safe tonight is… Majesty Rose!
That means Ben Briley has to sing for the save tonight and we don't think the American Idol judges are going to give it to him. Poor Ben, no tour for him and that's gotta hurt.
Ben sings "Stars" by Grace Potter and it's rough and not going to save him. Keith Urban says they love him, but they can't use their save. He's going home.
What did you think of the American Idol 2014 results tonight? Did the right person go home?