Last night on American Idol the Top 8 contestants really turned it up and gave us a great show. Everyone was across the board having a strong night which makes picking out the best few even tougher, but let's see what we can find.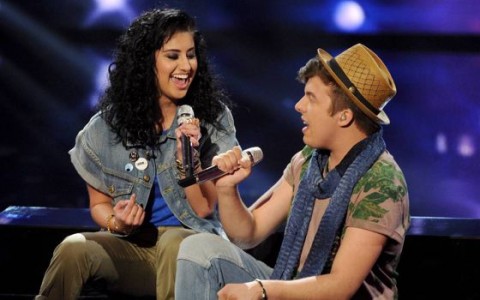 Here's our list of who had the best showings from the Top 8 solo performances, but we want to hear who would make up your "best of" for the night and especially tell us about your favorite duets! Share your thoughts below!
#5 – Jessica Meuse – "Blue Eyed Lie"

#4 – Caleb Johnson – "Chain Of Fools"

#3 – Malaya Watson – "Ain't No Way"

#2 – Jena Irene – "Rolling In The Deep"

#1 – Alex Preston – "Fairytales"

Be sure to join us on Facebook & Twitter for the latest Idol updates!
Tonight brings the American Idol results show where Ryan will reveal who moves on to the season's Top 7 stage. Support your favorites now by voting in our site poll here for the best of the Top 8 performances!