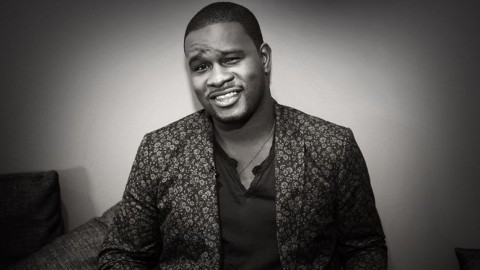 The American Idol 2014 Top 8 took on their audition songs last night and we got some very strong performances out of that.
But the weirdness that is Season 13 continues as voting seems to be all over the place. During the show, Ryan showed us how great C.J. Harris was doing in votes, but he was the very bottom of our poll through most of the night. So needless to say, anything can happen tonight, but I'm still going to nail down who stays and who goes.
* UPDATE: Find out who went home on American Idol this week in our full recap of the Top 8 elimination results show!
Actually, my record has been pretty good this season as far as who goes. It's those other people in the bottom 3 that keep throwing me off. OK, let's get to it.
Definitely Safe (I think)
Malaya Watson. She's finally arrived and settled into the definitely safe category. I can't believe she fought her way from the bottom to here, but it looks like she has. According to our poll, she was the best performer and I think that will reflect how the votes play out also.
Jena Irene. Like Malaya, Jena has finally found her spot in the competition, too. She went from Wild Card to one of the most popular contestants. I don't know if she's going to win the season, but I think she's certainly safe this week.
Caleb Johnson. Caleb isn't winning our poll, but I still think America as a whole is voting for him. Either he or Alex should be in this safety spot, but regardless, I don't think either are going anywhere.
Most Likely Safe (maybe)
Alex Preston. This guy still confuses me, but I really thought his performance last night was solid. So even if he isn't at the top of the pack, I think that performance is keeping him safe for sure.
Jessica Meuse. This could be the week Jessica finds herself in the bottom. But not because she's bad, but because we're running out of choices. But I think she'll be safe. I think the bottom three this week is pretty predictable.
Possibly the Bottom Three (probably)
C.J. Harris. As I mentioned earlier, Ryan Seacrest revealed that C.J. was doing pretty well in the Facebook votes, but that was early. So I'm just going to ignore those like I have been this whole time. That's a waste of time. I think C.J. is in trouble.
Sam Woolf. I think Sam's performance was fantastic and he should not be in the bottom, but our polls put him there and it would fit the pattern the past several weeks.
Dexter Roberts. I'm still confused about why he never caught on with country voters, but that's what seems to have happened. I think he'll not be safe this week.
Possibly Going Home
C.J. Harris. He's losing all the polls I can find and it just makes sense right now. However, I do think there's a strong possibility the judges will save him. Even though they'll regret it next week when they can't save Dexter.
Who do you think will stay and go tonight on American Idol 2014?