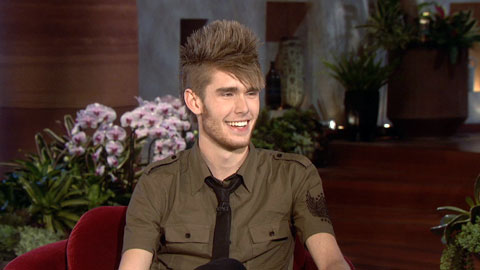 The Idol Pad has revealed some "American Idol 2012" Top 42 spoilers and among those names are two early favorites from Season 10 Scott Dangerfield and Colton Dixon.
Dangerfield wowed fans during his audition but then wasn't seen from again. We later learned he withdrew from the show. Dixon made it all the way to the Green Mile episode and fans were left shocked when he didn't make the final cut. Both are getting another shot at season 11 and I wouldn't be surprised if both make it to the live rounds.
Warning: Spoilers ahead. Stop reading if you don't want to see spoilers.
Top 42 ("Sing For Your Life" Round/Green Mile)
Contestant name [previous seasons, round eliminated]
Aaron Marcellus Sanders [AI7 GM & AI10 SFYL/GM]
Adam Brock
Aubrey Cleland [AI10 HW]
Baylie Brown [AI6 HW]
Brielle Von Hugel [AI10 HW]
Chelsea Sorrell [AI10 LV]
Cortez Shaw
Creighton Fraker
David Leathers
Dante/Heejun Han
DeAndre Brackensick [AI10 SFYL/GM]
Deneco Pittman (A.K.A. Neco Starr) [AI9 HW]
Eben Franckewitz
Elise Testone
Erika Van Pelt
Haley Johnsen
Hollie Cavanagh [AI10 SFYL/GM]
Jen Hirsh [AI9 HW]
Jermaine Jones
Jessica Sanchez
Joshua Ledet
Kayla Thorton
Michael Colton Dixon [AI10 SFYL/GM]
Naomi Rae Gillies
Phil Brooks (A.K.A. River St. James) [AI10 LV]
Phillip Phillips
Reed Grimm
Sarah Phillips
Scott Dangerfield [AI10 HW – dropped out last season]
Shannon Magrane
Shelby Lynn Tweten
Skylar Laine