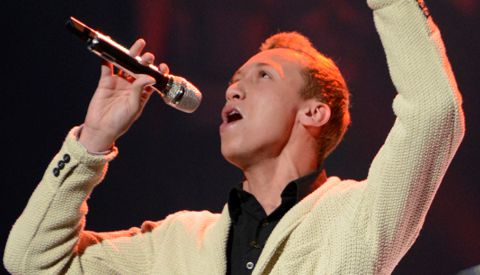 The guys are ready for their turn on the American Idol 2013 stage tonight in front of the judges for their chance at a seat in the Top 20. After last night's mostly incredible round of performances by the first ten ladies there is a lot of pressure as the bar has been set high for the boys.
So far we already know who was eliminated from the show tonight thanks to the spoilers coming out of last night's taping. If you want to get ahead then check out those results spoilers now or wait for tonight's episode to be shocked. Seriously shocked. I couldn't believe the names on the cut list from the guys first round, but maybe you're more prepared for those big voices and typical Idol fare to be eliminated.
As for some minor surprise spoiling we've also got tonight's song list leaked for the guys participating in the first boys' round in Las Vegas.
Prepare yourself for some standout performances from American Idol 2013 Hopefuls like Charlie Askew, Devin Velez, and more on tonight's episode. Join us during the broadcast to chat with other fans as we live blog the results.