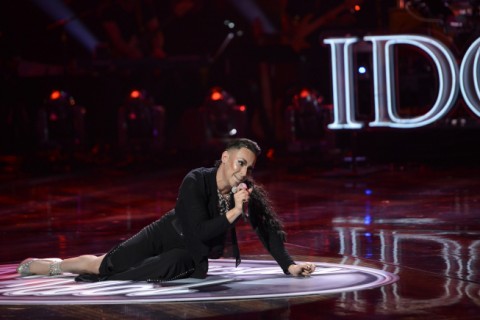 It's Las Vegas Week on American Idol 2013 and the judges are building the Season 12 Top 20! That means tonight more cuts will be made. This time it's the guys and 10 of them will be performing in solo acts and will be cut in a "sudden death" round. The cuts will be made at the end of the night.
The guys who survive this round tonight will move on to the live shows and America's votes!
I'll be watching along with you and recapping as we go. So I'll be  reviewing each of them below. Be sure to chime in with your thoughts in our comments section!
The Las Vegas Round 2 performances
Paul Jolley. His version of Keith Urban's "Tonight I Want To Cry" was a risky choice, but it paid off. His voice is tender and sweet and he's got a good range. It was a bit slow, but it was definitely a great start to the night.
Johnny Keyser. Johnny's version of "I Won't Give Up" was a perfectly fine vocal, but his problem is he lacks charisma and a connection with the audience. And it probably wasn't the best song choice either.
JDA. First of all, JDA can work a stage. And in those heels. Hats off. Sadly, the performance was kind of awful. I mean it was weirdly entertaining, but I don't really want to hear him sing.
Kevin Harris. I think this guy has a great voice. It's very easy to listen to. He did have a couple of shaky  moments during the song, especially at the end, but maybe he was nervous? Or this was just not a good song choice? Yeah.
Chris Watson. First of all, why was he dressed like that if he was just going to sing "Sittin On The Dock of the Bay?" WEIRD. Secondly, the vocal was fine but the whole thing was boring. Which makes his outfit choice make even less sense. Yeah, I'm really stuck on what he was wearing. Not really feeling this one.
Devin Velez. A guy singing Beyonce's "Listen?" was my first thought. But then I got lost in the song and stopped writing. So that's a good thing. I love that he mixed in some Spanish as a nod to his heritage. Very nicely done.
Elijah Liu. I didn't want to like this performance at all. I just didn't. Mostly because he sounds like Justin Bieber at the age of 12, but I actually really liked it. I'm not sure what's come over me. I mean it got a little shaky near the end, but for the most part, his version of Bruno Mars' "Talking To The Moon" was't bad.
Charlie Askew. Wow. I felt so nervous for him. He was so nervous he was shaking and nearly in tears. And I was all ready to make terrible fun of his horrible outfit, but now I just feel too bad for him to that. And since he was so nervous, his performance was way off. I mean if I were already grading my recap performances, I'd five him an F. But he should be just fine since the producers are doing everything they can to make sure a guy doesn't win this season. Wait, was he really compared to Freddie Mercury by Keith and Nicki? I'm about to die right now. I must have been watching a completely different show.
Jimmy Smith. Oh my. This was not good. Bot only were the vocals off, but it was incredibly boring. I'd say he's an easy cut, but from what I mention in the last paragraph, he'll probably be put through with no ifs, ands or buts.
Curtis Finch Jr. If you've ever read me in the past then you probably already knew I was going to HATE this performance. I hate gospel singers on Idol. I don't have gospel singers, just ones on Idol. And I really like the song "Superstar" too, but not this. Ugh. Blah.
The results
Nicki gives Curtis Finch Jr the news that he is a part of the American Idol 2013 Top 20.
Country singer Jimmy Smith gets bad news from Randy. The journey ends for him.
Mariah tells Kevin Harris he also as to say goodbye to American Idol 2013.
Elijah Liu gets a yes from Keith. His fate is now in America's hands.
Nicki tells JDA that the journey ends.
Paul Jolley's fate was not unanimous. Jimmy Iovine steps in and says yes, put him in the Top 20.
Chris Watson gets bad news from Randy. He's out.
Mariah tells Charlie Askew that he's moving on to America's votes.
That leaves Johnny Keyser and Devin Velez. This is a weird two to leave because at one point I was certain they'd both move on to the Top 20. It's good news for Devin and bad news from Johnny, again this season.'
What do you think of the decisions? I'm most surprised about Johnny, but then again, he would probably have gotten a lot of the the female votes this season and Idol does not want another guy to win.