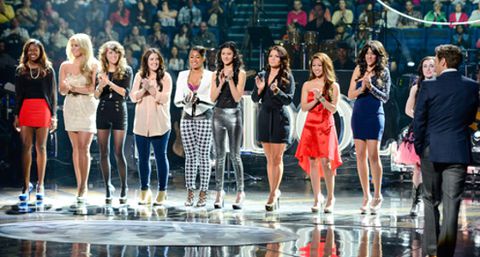 Check out these photos from last night's episode of American Idol 2013 featuring the first ten girls from this season's Top 40. FOX released the images from the show's taping on Tuesday which was then broadcast on Wednesday night.
Some of these faces we'll be seeing again, but half of them were sent home and must instead prepare for coming back next year for another chance.
Adriana Latonio, Amber Holcomb, Angela Miller, Kree Harrison, and Tenna Torres were among the lucky ladies picked by the judges for the live shows. The singers eliminated last night were Brandy Hotard, Isabelle, Jenny Beth Willis, Kamaira Ousley, and Shubha Vedula.
"Vote" for your favorite by clicking on her pictures below and then we'll see which American Idol Hopeful has the most views.
click images to see full-size
All images: CR: Michael Becker / FOX. Copyright / FOX.