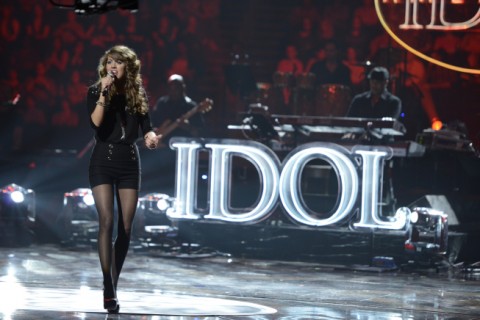 It's Las Vegas Week on American Idol 2013 and we'll soon know the Season 12 Top 20! But first we've got to watch them cut more contestants. Up first are the girls. Tonight 10 of the girls will be performing in solo acts and will be cut in a "sudden death" round. Oh, but the "death" isn't that sudden. They'll be making cuts at the end of the night.
The girls who survive this round tonight will move on to the live shows and America's votes!
I'll be watching along with you and recapping as we go. So I'll be  reviewing each of them below. Be sure to chime in with your thoughts in our comments section!
The Las Vegas Round 1 performances
Jenny Beth Willis. I think this is the first time I'm seeing her. This is going to be tough since she's from near my hometown of Louisville, but  sadly, this performance wasn't that great. She looked awkward on stage and never quite connected with the song.
 Tenna Torres. I was reminded that she was the Mariah superfan who went to Camp Mariah when she was younger. I had lost track of her during Hollywood Week. Her audition tonight wasn't bad. Her performance was tender and sweet at first then when I thought it was going to build up into a powerful ballad, it kind of just stayed there. But it was still a pretty solid performance.
Adriana Latonio. Her performance of Aretha Franklin's "Ain't No Way" was decent. The judges ate it up, but I found it boring. I guess I'm just expecting some wow moments and so far I'm not getting it.
Brandy Hotard. Shouldn't they just change the name of this show to Female Country Idol? There are SO many country songs this season. I liked Brandy's performance. I thought the vocals were strong and she connected well to the song. The judges, however didn't seem to agree, which I find way odd.
Shuba Vedula. Finally, something kind of upbeat and energetic. I also liked that she started the song on the piano then broke it down. She played with her voice a bit too much for my liking, but I thought the performance was pretty entertaining.
Kamaria Ousley. I'm going to try to not be too mean to people who are likely not going to be a part of the show this season, but this performance was so not good. I'll stop there.
Kree Harrison. I must be in a bad mood tonight because I'm not enjoying any of these performances. I don't think this was that bad, but there were a lot of shaky notes.
Angela Miller. She continues to shine and has herself poised to go a long way in the contest. This song wasn't as catchy as the one last week, but it's still been the best performance of the night (so far). She's just a pop star. There's something Kelly Clarkson about her.
Isabelle. I thought Isabelle's performance was very solid and all, but it was a bit boring. I hate agreeing with Randy Jackson EVER, but I kind of do on this.
Amber Holcomb. Her version of "My Funny Valentine" was pretty solid. She's clearly a natural on the stage. I'm trying to refrain from saying it was boring because I was very bored most of the night, including this one. So I'll just say that her vocal was great and leave it at that.
Five stools are out for half of the Top 10 girls. And the judges are ready to give the results.
Keith tells Jenny Beth that she is cut.
Nicki tells Brandy that it's over for her.
Randy gives good news to Tenna. She's in.
Kree also gets good news. Mariah tells her she's moving on.
Isabelle gets the news from Keith that she's heading home. And she storms off kind of bitterly. Classy.
Angela gets an easy yes from Nicki.
Kamaria gets an equally easy no from Randy.
So that leaves Adriana and Shuba. Adriana is in and Shuba is out.