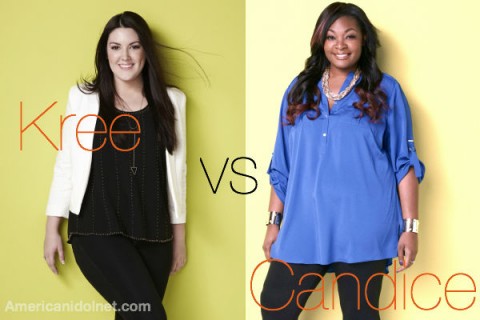 American Idol 2013 finale performances tonight as Candice Glover and Kree Harrison fight for your votes one last time this season.
The show kicks off at 8PM tonight (Wednesday) on FOX with both ladies delivering three songs a piece and we've got the Top 2 song list spoilers if you want to know what they'll be performing tonight on American Idol.
We can't wait to hear their new coronation songs. Remember the impact these songs had on last season's competition? It was a game changer then. Can it do the same again tonight?
Readers seem evenly split over which finalist will take home the crown during Thursday night's live results show. Fans of Kree and Candice are outspoken and supportive of their favorite as we head in to tonight's one-hour performance show.
We'll be here live blogging a recap of the American Idol 2013 Top 2 performances along with all your voting information so you can help crown your favorite. Be sure to visit tonight during the show and chat with other fans about what are sure to be incredible songs.
Join us on Facebook & on Twitter to get more updates!
Who Will It Be? American Idol 2013 Winner: