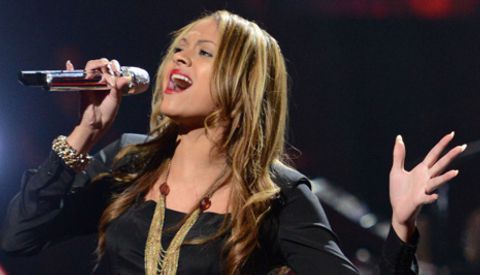 Earlier this week the spoilers leaked for the song choices on American Idol 2013 final nights in Las Vegas. Now the day has arrived for the girls' performances to broadcast so let's have a reminder of what we can expect to hear from them tonight.
Tonight's show will air at 8PM on FOX and run a full two hours which gives each of the remaining ten girls plenty of time to delivery and then be critiqued by the judges.
American Idol 2013 – Las Vegas Sudden Death Round 3:
Aubrey Cleland – "Sweet Dreams" by Beyoncé
Breanna Steer – "Bust Your Windows" by Jazmine Sullivan
Candice Glover – "(You Make Me Feel Like) A Natural Woman" by Aretha Franklin
Cristabel Clack – "No One" by Alicia Keys
Janelle Arthur – unknown
Jett Hermano (With Piano) – "Only Girl (In The World)" by Rihanna
Juliana Chahayed – "Skyscraper" by Demi Lovato
Melinda Ademi – "Nobody's Perfect" by Jessie J.
Rachel Hale – "Nothing But The Water" by Grace Potter And The Nocturnals
Zoanette Johnson – "Circle Of Life" (from The Lion King) by Elton John
Which performer are you most excited to see again tonight on American Idol? Don't forget to join us here on the site tonight for the live recap and discuss each Hopeful with other fans all through the show.