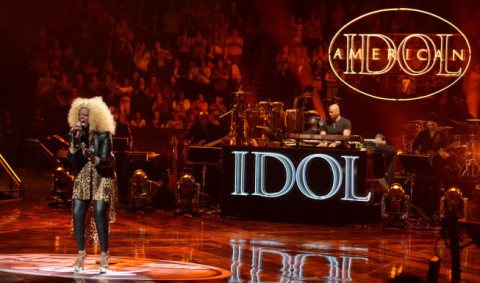 The Las Vegas rounds continue on American Idol 2013 and the girls are up again. Tonight the remaining 10 girls will be performing in solo acts and will be cut in the "sudden death" round. The judges will be making cuts at the end of the night.
The girls who survive this round tonight will move on to the Top 20 and America's votes!
I'll be watching along with you and recapping as we go. So I'll be  reviewing each of them below. Be sure to join in on the fun with your thoughts in our comments section!
The Las Vegas Round 3 performances (girls)
Melinda Ademi. Her performance of "Nobody's Perfect" was kind of all over the place. She was pulling out too many tricks and runs. It was a little too gaspy at the beginning and the song didn't really lend itself to much of a vocal display. She did have a nice energy, though. She seems to really enjoying performing.
Candice Glover. Good song choice. I like when singers focus on classics instead of only the modern songs that sometimes lack substance. So, yeah, I was happy to hear her sing "(You Make Me Feel Like) A Natural Woman." I feel like she could have made it her own a little bit more and was at times flat, but Candice has already proven herself to me and many others.
Juliana Chahayed. Oh boy, it's Demi Lovato's "Skyscraper" on a singing competition show. Again. At was at least a unique version of the song. And while it was nice to see her with a guitar, I'm not a fan of her airy, gimmicky singing voice. I'll never be a fan of that singing style.
Jett Hermano. A piano version of Rihanna's "Only Girl In The World." I like. Good performance. It was shaky at parts, but I liked it. This is the first time I've seen her, though, it seems. So it's probably  not looking good for her.
Cristabel Clack. Hmm. I'm feeling nice tonight, so I'm not going to go crazy with this recap event though I thought it was awful. I'll just say that I think things aren't looking good for her. Or maybe I'm wrong? The judges seem to not agree with me on this.
Aubrey Cleland. Eh. I was kind of bored with this. I mean it was a perfectly fine version of Beyonce's "Sweet Dreams," but I found myself looking at the ceiling or my invisible watch.
Rachel Hale. This is the first performance of the night that actually felt American Idol-worthy. Her version of "Nothing But The Water" had a little Carrie Underwood mix and had me almost tapping my foot. So that says a lot. I liked it.
Breanna Steer. I like the song choice. "Bust Your Windows" isn't a typical singing show song, so you know I'm appreciating that. I expected it to go somewhere, but it just kind of sat there in one place. Not too bad, I guess.
Janelle Arthur. The country girl is getting a heavy edit this season (after being cut two other times), so that on top of a pretty solid performance tonight has things looking good for her.
Zoanette Johnson. I never in my life thought anyone on American Idol would sing "Circle Of Life" (unless there was some Disney or Elton John theme). And when I heard she was doing it, I thought it was going to be even more ridiculous. And while it was weird, Zoanette got to finally show that she can sing and quite powerfully. It's still pretty weird, though. But I think she's very entertaining. So I'm cool if she stays.
The Results
Zoanette is up first. Randy tells her that she's going on to the Top 20.
Melinda gets her news from Mariah. And it's not good. The journey ends for her this season.
Keith lets Juliana know that she's not a part of the 2013 Top 20.
Aubrey gets an easy yes from Nicki. She's in.
Cristabel Clack is up next and Randy lets her know that she's not moving on.
Mariah tells Candice Glover that she's in the Top 20.
Jett learns from Keith that she's not moving on. She's heading home.
Nicki lets Breanna know that she's headed to the Top 20.
So that leaves Janelle and Rachel, the two country girls. Rachel is out and Janelle is in.
What do you think of these American Idol results?