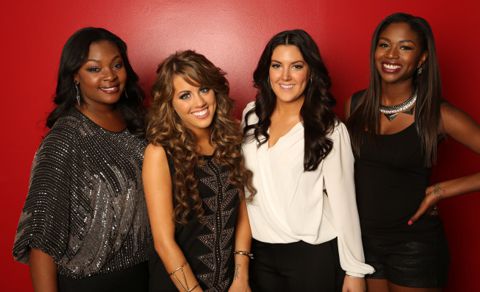 Can't wait to hear what the American Idol Season 12 Top 4 sing tonight? Wait no longer. We've got the latest American Idol spoilers for you, courtesy of The Idol Pad.
These are of course rumors, but the source is reliable.
One-Hit Wonders
A few of these songs were recorded more than once, but at least once they were all one-hit wonders. Here are the rest of this week's American Idol spoilers.
Singer's choice
Candice Glover – "Find Your Love" by Drake
Kree Harrison – "It Hurt So Bad" by Susan Tedeschi
Amber Holcomb – "The Power Of Love" by Jennifer Rush/Celine Dion
Angie Miller – "Who You Are" by Jessie J.
Duets
Amber and Kree – "Rumor Has It" by Adele
Angie and Candice – "Stay" by Rihanna & Mikky Ekko
I have to say that I'm not thrilled with these song choices. They sound incredibly boring. But maybe the performances tonight will prove me wrong. I am interested in hearing Kree sing "Whiter Shade of Pale," but other than that, it's all kind of meh.
I like my song suggestions better, of course. What do you think of these song choices? Oh, and be sure to Join us tonight at 8PM as we watch the live recap the performance show!