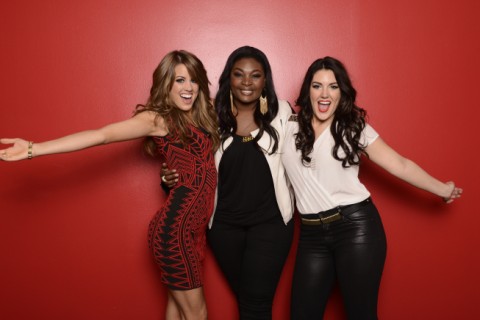 The American Idol 2013 Top 3 — Candice Glover, Kree Harrison and Angie Miller — are set to take the stage fresh off their hometown visits from this past weekend.
Each of the three ladies will be taking on three songs each. One was decided by the judges, one by Jimmy Iovine and one by the show producers. Like every week, I'll be reviewing each performance and assigning the letter grade I think each deserves. And I'm doing it live, so be sure to share your thoughts and own reviews in our comments section below!
The American Idol 2013 Top 3 Performances Reviews
Round One: Jimmy's Picks
Kree Harrison, "Perfect." I loved that she put a country spin on the Pink song. She definitely made it her own. Very smart. And her vocals were right where they need to be. And she seemed to connect to the audience more than before. Grade: A-
Candice Glover, "One." I think the key the song was in was a little weird. I realize they were going more for the Mary J. Blige, version (at least I think), but something about the arrangement made the home seem off. I thought it was going to be fantastic, but it wasn't and that disappoints me greatly. The vocals were still great, thought. Grade: A-
Angie Miller, "Sorry Seems To Be The Hardest Word." I imagine Jimmy picked this song so she could be at the piano. But she failed to do that. Not a good idea. But that aside, the performance was mostly solid. The vocals were there but with Angie's usual problem is that she doesn't really connect quite like Candice does. Grade: B+
Round Two: Judges' Picks
Candice Glover, "Next To Me." I have no idea what this song is,  but it was right in Candice's wheelhouse it seemed. It was kind of a perfect performance. I felt a lot like it was a Candice concert since I didn't know the song and she range it like her own. Grade: A+
Angie Miller, "Try." More Pink. Wow. Another disconnected performance. The performance was fun and upbeat, but it feels like Angie signs like it's a job and not something she does to speak to others or entertain them. It's kind of robotic almost. Grade: B+
Kree Harrison, "Here Comes Goodbye." This was a great song choice for her. I wanted a better power moment. She held on to it but it almost defeated her. But overall, not bad. I think she got the best homecoming edit. Grade: B+
Round Three: Producer Picks
Angie Miller, "Maybe." This is the song she chose to play piano to? I've never even heard of the song, but it was probably her best of the night. It seemed the most "Angie." Grade: A-
Kree Harrison, "Better Dig Two." A little edgy country. I like it. Again, I don't know the song, but Kree handled it very well. It felt a lot like her own song. She owned it. Grade: A-
Candice Glover, "Somewhere." I think this was a weird song choice, but that's OK, because Candice slayed it like only she could. So much power, so much emotion. If America doesn't vote for her, there's something wrong. Sincerely. Grade: A+
I think I'm calling it as Candice wins the night. Who were your favorites from the night?