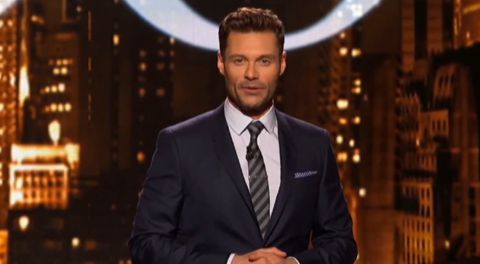 Part of the action tonight on American Idol 2013 is the reveal of which Top 20 finalist cut from the competition last week will earn the 11th and final seat on the bus for the 'Idol Live!' summer tour.
Last week we learned that while the bottom ten singers out of the Top 20 were being cut from the competition it wasn't the last time we'd see two of them. From what we heard, the boy and girl singers who just barely missed making the Top 10, boy wouldn't that burn to know how close you got?, will be back on stage tonight for one more shot.
Who ever wins this song battle won't get to return to the main competition, but they will get to go on the 2013 'American Idol Live! Tour' as it zips from one corner of North America to the other. Sure, it's not as good as having another shot at the crown, but it's a guaranteed summer of exposure to fans and a paycheck for that whole time.
Last week we thought Aubrey Cleland and Charlie Askew had a shot at becoming the American Idol 2013 wild card singers, but that was before we learned the particulars of this twist so I'm not sure I'd still bet on those two to show up tonight.
As soon as we learn who is facing off tonight during the show we will update you here with the results.
Here we go. The boy's wild card is… Charlie Askew! Next we'll find out which girl he'll be competing against for that final tour seat. Wow. The girl is Aubrey Cleland! Nailed it! Turns out that last week I accurately predicted 12 11 of the Top 12 singers this season. Woohoo!
American Idol 2013 Wild Cards:
Boys – Charlie Askew performs "Sky Blue Diamond"
Girls – Aubrey Cleland performs "Out Here On My Own"
Great performance tonight from Charlie. Just imagine how well he would have done last week if he performed this song instead of that "Mama" disaster.
This is going to be tough. Aubrey did an incredible job tonight as well, but only one of them can join the tour.
Turns out we won't find out who gets the tour spot. I thought we'd get an immediate decision from the judges, but nope. Instead viewers can vote at FOX.com and the results will be revealed next Wednesday. In the meantime, vote in our poll below for who you think should win. Charlie or Aubrey?