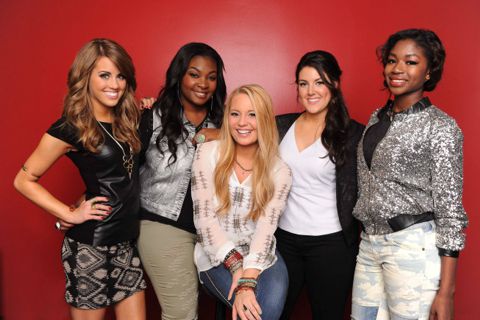 The American Idol 2013 Top 5 themes are hush-hush for some reason this week.
Candice Glover even tweeted "Okay so there will be no hint this week. Thank uncle Nigel haha." Weird. However, earlier in the week, Janelle Arthur tweeted about doing songs by divas and that seems to be a pretty accurate rumor, so while we don't know the other theme for sure, we'll run with divas.
So what diva song should the Top 5 sing?
Janelle Arthur, Coat Of Many Colors by Dolly Parton. We've already heard that Dolly is among her idols, so it seems only fitting that she do one of her songs. I think most people would suggest her do Jolene, but that song has been done so much lately, it's not longer effective.
Kree Harrison, Fancy by Reba McIntyre. I don't know why I'm obsessed with her doing this song. I really think she could kill it. Kree does list Patsy Cline as one of her idols, so maybe a Patsy song would work, too. Maybe Crazy or Walking After Midnight.
Amber Holcomb, Because You Loved Me by Celine Dion. I'd never think of Celine on my own, but since she's one of Amber's idols (who knew!), I think she could really make this song her own. It's important for her to do something recognizable and really have a moment or she'll be singing for that final shot at the judges' save.
Candice Glover, Respect by Aretha Franklin. This is way too obvious, but I'm drawing a blank for Candice. She and Angie always do the exact opposite of what I think, so I'm just going with this.
Angie Miller, Listen by Beyonce. Like I said above, Angie always does something way far off than I'd ever imagine (like Colton Dixon and Evanescence), so I'll just go with one of her idol's. I like the song and it's powerful, so I think Angie could have a moment with it.
If we find out what the other theme is, I'll make those suggestions too. What would you like to hear the Top 5 sing if the theme is Divas?