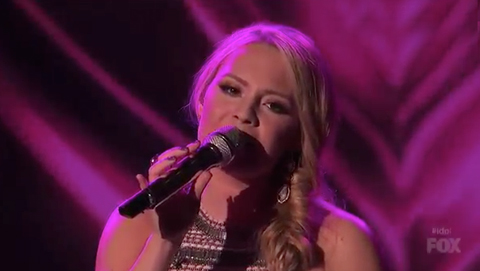 We've been waiting for the official word on this week's American Idol 2013 Top 5 songs and now we're finally getting spoilers straight from executive producer Nigel Lythgoe.
The rumor has been for several days the Top 5 would be performing two songs. One from the year they were born and the other would be a "Diva Song." Branden made his recommendations for the Diva performances and now we can confirm the theme of songs from the year the finalists were born.
Nigel began tweeting song reveals in some not-so-cryptic messages such as what we could expect from Kree with
#Kree is so good "She Talks to Angels."

— Nigel Lythgoe (@dizzyfeet) April 16, 2013
"She Talks To Angels" is from The Black Crows in 1990 which is Kree's birth year so there we go.
MJs reports Candice was mentioned in a Tweet from Nigel, but it's no longer in his profile.
@PaulaAbdul wait until you hear Candice singing your song "Straight Up" on #americanidol this week. I'll bet you'll love it.
MJs points out Candice was born in 1989 which Paula's hit arrived a year earlier in 1988. Could that song be from the other theme or did someone get their year's mixed up? Considering Nigel's message was removed perhaps they realized the error.
We'll keep watching his account for more reveals, but here's the list of the singer's birth years as we try to piece together this week's American Idol 2013 spoilers.
Amber Holcomb: 1994
Angela Miller: 1994
Candice Glover: 1989
Janelle Arthur: 1989
Kree Harrison: 1990
Based on those years, what do you think the Idol Hopefuls should perform on Wednesday?
Update: Nigel is tweeting more song spoilers. Angie Miller will perform "Halo" by Beyonce. Janelle is covering "Dumb Blonde" by Dolly Parton. Amber preparing to perform "What Are You Doing the Rest of Your Life."
Although Kree's talking to Angels it is Angie who has got a "Halo."#americanidol

— Nigel Lythgoe (@dizzyfeet) April 16, 2013
Janelle is no "Dumb Blonde." She's channeling #Dolly.

— Nigel Lythgoe (@dizzyfeet) April 16, 2013
I wonder what Amber "is doing the rest of her life?" #americanidol#AmberSingsBarbra

— Nigel Lythgoe (@dizzyfeet) April 17, 2013