Kristen O'Connor became the first eliminated finalist on American Idol 2014 last night when she faced off in the Bottom 3 with Malaya Watson and MK Nobilette.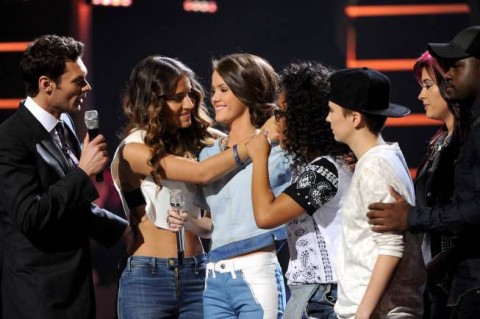 O'Connor's elimination did not come as a surprise to many who were following our predictions, but the results frustrated her fans all the same. Although she's been cut from the competition Kristen has plenty of opportunities out there ahead of her.
Speaking with FOX Audio Central, Keith Urban gave Kristen this advice:
It's what you do with this forward, that that's what matters because I mean there are people that have won this show that haven't been able to do as much with it as people that didn't win the show who have gone on to have incredible careers.  So this show gives you this moment and what you do with it after is really what matters.
Harry Connick Jr said told FOX Audio Cental that Kristen didn't need his advice and that she's already a great singer and will do fine out there. Harry did mention how impressed he was with her sportsmanship in being Thursday night's eliminated contestant:
The thing I was most impressed with, I went and gave her a hug afterwards, which is nice because I don't talk to the contestants because I think its better for me to be impartial, and I gave her a hug and I told her, the way she handled being sent home was with great dignity and class, and that was very impressive to me and it says a lot about who she is.
We'll miss Kristen on the stage next week but will also look forward to hearing from her on what she does next after American Idol.
click images to see full-size
Kristen O'Connor's Journey Ends on American Idol